SpaceX Starlink Satellite Launch Delayed Again For Software Update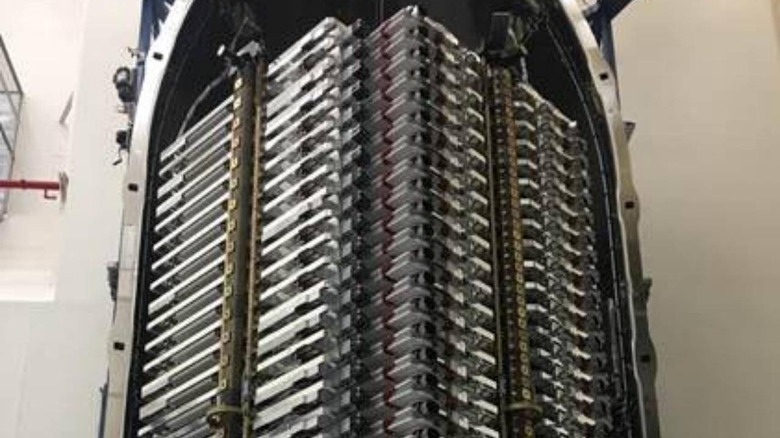 SpaceX has its Falcon 9 sitting on the launch pad waiting for the go to launch. Earlier this week we saw an image of the Falcon 9 packed with the first 60 of SpaceX's Starlink satellites. That launch was delayed due to wind shear from May 15th to May 16th.
The launch was delayed again on May 16th due to an issue with the satellite software. The new delay will be approximately seven days as SpaceX issues a software update for the satellites. SpaceX tweeted yesterday that it was standing down to update the satellite software and triple-check everything again.
SpaceX noted that it wants to do everything it can on the ground to maximize mission success. Reports indicate that the 60 satellites have some among their numbers with possible software or hardware faults. The assumption is that the satellites will need to be updated by hand and with 60 of them in a small space that could take time.
To get the sort of coverage with Starlink that SpaceX wants, it will eventually launch around 1,000 of the satellites annually. The next launch window for the Falcon 9 will be in the May 22-24 range. That is assuming nothing new and significant is found during the updates and final checks ahead of launch.
Standing down to update satellite software and triple-check everything again. Always want to do everything we can on the ground to maximize mission success, next launch opportunity in about a week.

— SpaceX (@SpaceX) May 17, 2019
The goal of the SpaceX Starlink constellation is to have 12,000 satellites flying in low Earth orbit and providing Internet connectivity anywhere on the planet. SpaceX gained FCC approval for its Starlink constellation assuming it could launch at least 6,000 satellites in the next six years. SpaceX CEO Elon Musk has said that in the initial launches things are expected to go wrong. He also says that for minor coverage at least six more sets of 60 satellites are needed and to get stronger coverage at least 12 more sets of 60 satellites.