SpaceX shows off Falcon Heavy rocket ahead of its first launch next month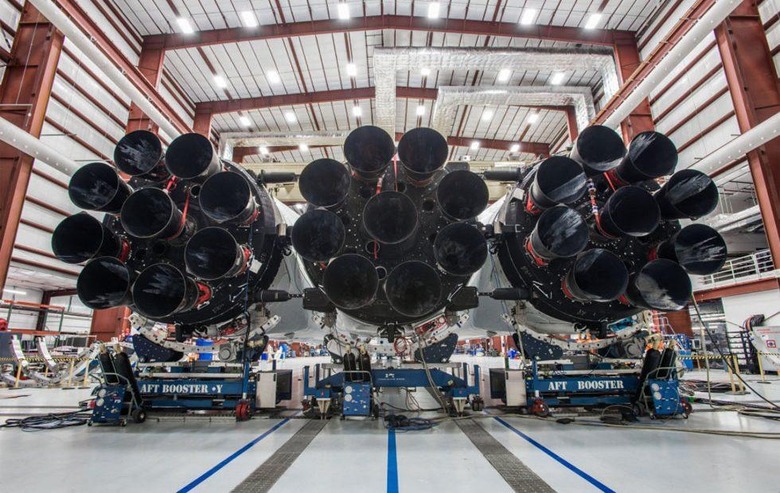 SpaceX is getting ready for the maiden flight of its gigantic new rocket. The rocket is called Falcon Heavy and its maiden flight is set for next month. SpaceX and Tesla CEO Elon Musk took to Twitter to show off some images of Falcon Heavy as it is under construction at the SpaceX hangar on Pad 39A at the NASA Kennedy Space Center in Cape Canaveral, Florida.
The coolest of the images shows a view of the 27 first stage engines of the rocket with each of the three main boosters packing nine rocket engines. Two of those stage boosters are from the Falcon 9 rockets SpaceX has been using for a while.
The third of those boosters is a modified Falcon 9. When construction is complete, and the Falcon Heavy is stood up for launch, it will reach 230-feet into the air. It was designed to handle payloads of up to 119,000 pounds. SpaceX is proud to note that the Falcon Heavy is the most powerful rocket to be built in the US since the Saturn V rocket used to send man to the moon.
Falcon Heavy will be able to send twice as much payload into orbit as the Delta IV Heavy built by United Launch Alliance. Elon Musk has boasted in the past that the first payload for the Falcon Heavy might be his own Tesla Roadster.
Musk and SpaceX are being realistic, rocket science is hard after all, and admit that the rocket might fail on its first launch. The Falcon Heavy will also be used eventually to launch manned capsules into space.
SOURCE: Space.com