SpaceX: Good news, future Dragon crew, you wouldn't have been pulped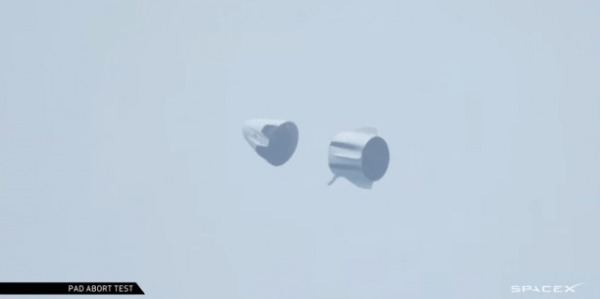 SpaceX has successfully tested its Dragon launch abort system, having done so with a dummy in the Dragon capsule to see how well potential future occupants would handle such an event. Sensors were used to gauge what kind of forces the dummy was exposed to during the aborted mission, and according to a tweet SpaceX has since fired off, it held up perfectly fine. In fact, SpaceX says that had humans been in the capsule they would have been "in great shape".
You can see the full video of the test below, though the interesting part starts around the 19:00 mark. You can see the capsule separate and a few parachutes deploy, with the capsule landing a short while later and being recovered from the ocean. SpaceX is planning for a human crew to be aboard in 2017.
Following the test, SpaceX stated, "Had humans been on board today, they would have been in great shape." Elon Musk also took to Twitter, as we've come to expect, with some stats on the event: "Dragon abort test stats: 0 to 100 mph in 1.2 sec, top speed of 345 mph."
Musk followed up that tweet with another fleshing out the details: "Max acceleration was 6X gravity, altitude 1187m, lateral distance 1202m and velocity 155 m/s. Main chutes deployed 970m." More on SpaceX and its various missions in the timeline below!
SOURCE: Twitter