SpaceX Falcon Heavy's first test flight was an incredible success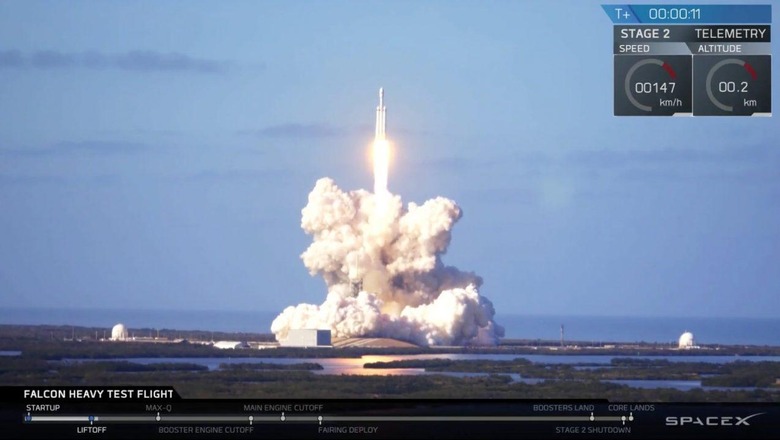 For a while, it looked like SpaceX's Falcon Heavy rocket wasn't going to make its first test flight today, but now Elon Musk and company have to be happy they made the launch window with just a few minutes to spare. The Falcon Heavy's maiden voyage has gone off without a hitch, giving us a potential glimpse into the future of space flight. Beyond that, we can now say that there's a cherry red Telsa Roadster floating around in the void of space, which is just plain cool.
Today's launch comes after a successful test firing of the Falcon Heavy's rockets at the end of January. This wasn't just a test flight for the rocket that may one day carry humans to Mars, but it was also a test of everything SpaceX has learned thus far. After all, a perfect lift off was only one key to the launch's success as a whole.
After the Falcon Heavy capsule was lifted into low-Earth orbit by three rockets, SpaceX had the task of landing all three of those rocket cores back on Earth to be used again later. The three detached from the capsule without issue, and minutes later, the two side cores landed safely back on terra firma simultaneously. If you were watching it live, then you'll likely agree that it was a spectacular sight.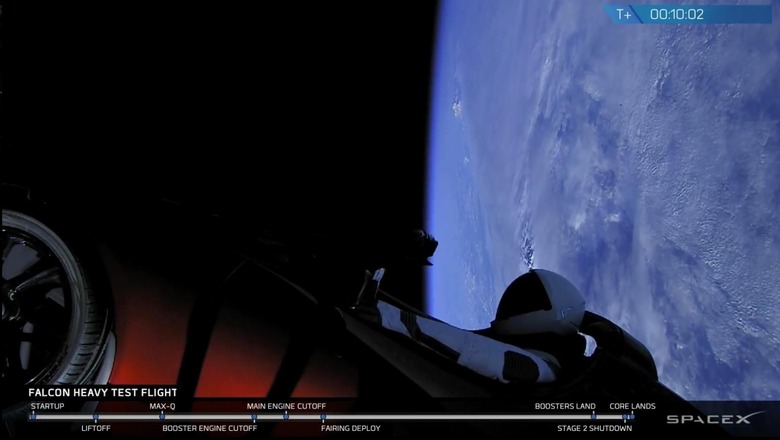 At the time of this writing, there's actually one part of the launch that's still up in the air (no pun intended). We're unsure if the center rocket core made it back to its landing platform in the Atlantic Ocean safely, as the camera feed on the offshore platform cut out as the rocket attempted its landing. The livestream also ended before SpaceX had the chance to confirm a successful landing, so we'll just have to wait and see what the official word is later today.
Even if it turns out that the center core missed its mark with the landing, this was still a wildly successful launch for a lot of reasons. If you missed the livestream of the launch, you can see it in its entirety in the video embedded above. Soak it all in, because you could very well be watching history being made.