SpaceX Falcon Heavy center core stuck the landing before sliding into the abyss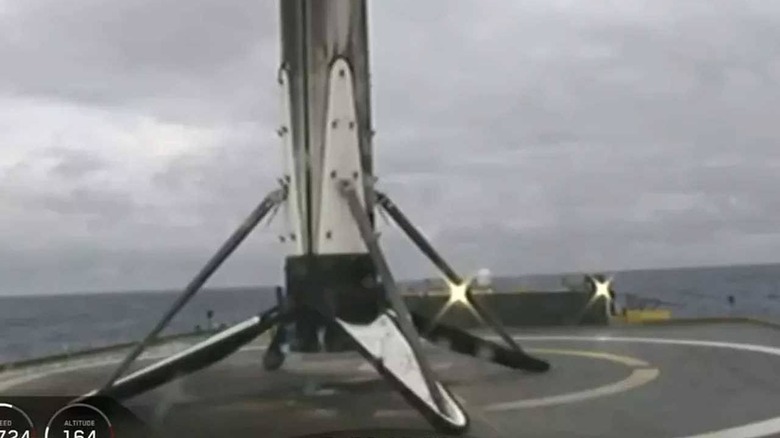 SpaceX has been very successful of late with pretty much everything it does. The company had a successful test of its Crew Dragon capsule not long ago that saw the capsule safely splashdown in the ocean. SpaceX has had great success with landing the reusable core sections of its Falcon rockets on a floating barge out in the ocean. Unfortunately, things didn't go well for the recent recovery of the Falcon Heavy center core.
The Falcon Heavy center core successful landed on the drone barge out in the ocean, but on the trip back to Florida the barge ran into heavy seas, and the rocket fell over and slid into the ocean abyss. SpaceX said that the rough seas with swells from eight to ten feet made the booster begin to shift on the platform and it was unable to remain upright.
SpaceX noted that the recovery team was unable to secure the booster for the return trip to Port Canaveral. The center core that was lost is one of three that the Falcon Heavy rocket uses to boost heavier payloads into orbit. The core that was lost at sea flew on April 11, which was the second flight for the Falcon Heavy rocket. That flight was the first for Falcon Heavy in over a year.
The two outer Falcon Heavy cores were recovered and touched down on concrete landing pads at Cape Canaveral. This was the first time that SpaceX was successful in landing all three of the rocket cores. The recovery of the center core of the Falcon Heavy this time came after the first flight failed as that central core missed the landing ship entirely. The barge usually grabs onto the core using what SpaceX calls the Octograbber, but it wasn't used this time. It will be used for the next mission according to SpaceX.