SpaceX Falcon 9 successfully launches secret Zuma mission into orbit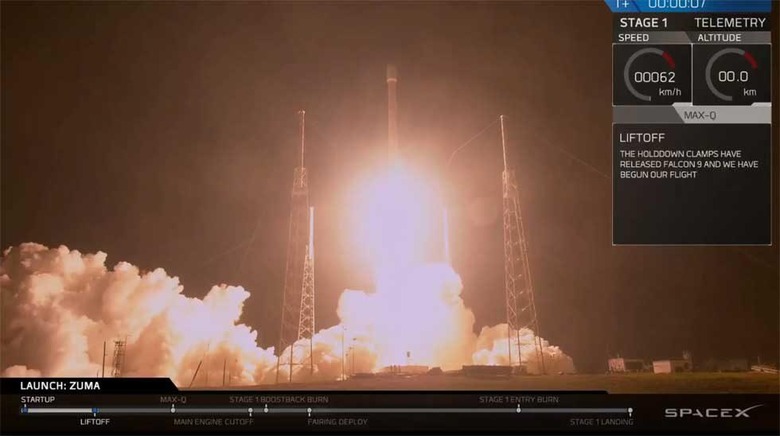 SpaceX has launched a Falcon 9 rocket and stuck the landing again to reuse the first stage of the rocket. This mission had a bit of cloak and dagger associated with a secret Zuma mission atop the rocket. The secret payload was launched for the US government last night.
Falcon 9 lifted off at 8pm EST from Cape Canaveral Air Force Station in Florida. The two stages of the booster separated 2 minutes and 19 seconds into the flight. That second stage pushed the Zuma payload into low-earth orbit and the first stage returned to Earth.
That first stage landed successfully at Landing Zone 1 at the SpaceX facility. The successful first stage landing was complete in fewer than 8 minutes after takeoff. SpaceX has become very skilled at landing its first stage rocket after some early losses.
So far there have been 21 successful first-stage touchdowns with nine of them happening at Landing Zone 1 and 12 on autonomous drone ships in the ocean. The ultimate goal is to reuse those rockets to cut the cost of putting things into orbit.
Zuma is a satellite of some sort that was developed by Northrop Grumman. There is no indication of what agency will operate it. We don't even know exactly where Suma is in orbit.
SOURCE: Space.com