SpaceX Dragon to depart ISS next week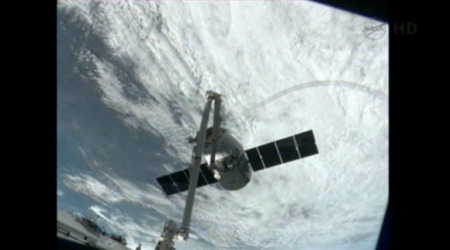 Earlier this month, SpaceX launched its Dragon resupply ship to the international space station. Early on, the mission encountered some problems with solar power that threaten to leave the cargo ship stranded. However, those problems were fixed and the resupply ship continued on to the ISS.
Crewmembers aboard the ISS were able to grab hold of the supply ship using the space station's robotic arm and dock the ship without further incident. The SpaceX Dragon resupply ship was expected to be attached to the space station for approximately a month while cargo was unloaded and other items were placed inside the capsule.
NASA has now announced that the Dragon spacecraft is set to depart the ISS and return to Earth on Monday. The space station is also set to receive three new crewmembers early next week. The Dragon module is currently attached to the international space Station Harmony module, where it has been docked the last three weeks.
The Dragon spacecraft will begin its release from the ISS at 5 AM Eastern on Monday. The Dragon capsule is expected to splash down in the Pacific Ocean off the coast of Baja California around 1:20 PM Eastern time. The Dragon capsule carried 1268 pounds of supplies to the crew and will return with about 2668 pounds of cargo. Among the cargo, are the results of experiments that tested how life and microgravity would affect the growth of plant seedlings and changes to the human body.
[via PC Mag]