SpaceX Dragon capsule successfully docks with International Space Station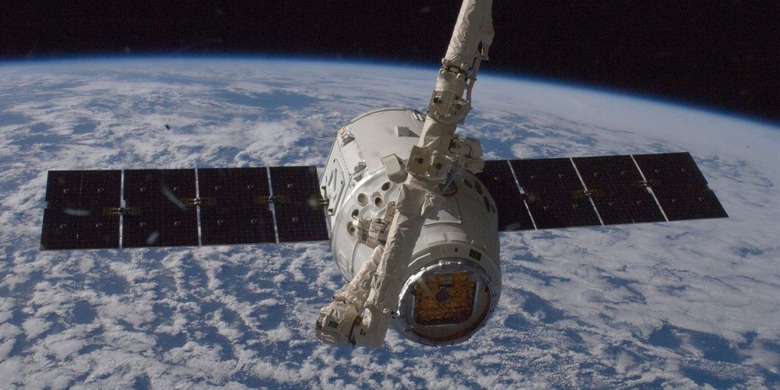 It's been a somewhat turbulent week for the SpaceX Dragon capsule, but today SpaceX and NASA announced that it has successfully docked with the International Space Station. The rocket carrying the capsule was originally scheduled to launch on Saturday, but was delayed at the last second. SpaceX and NASA tried again the next day, and managed to pull off not only a perfect launch, but a perfect landing of the booster that sent the Dragon capsule into space.
The smooth sailing didn't last though, as the initial docking of the Dragon capsule was delayed as well. It was originally supposed to dock yesterday, but the computer on board the Dragon aborted the rendezvous because of an issue with the capsule's GPS.
Today, though, the Dragon capsule successfully docked with the ISS and now the six-person crew can begin unloading the 5,500 pounds of supplies on board. That process will take about a month, NPR reports, after which it's back down to Earth for the Dragon. The Dragon capsule will return home at the end of March, when it will plummet into the Pacific ocean and be recovered for future use.
So, even though there was a bit of uncertainty about this launch at points and its meet up with the ISS was a little delayed, everything worked out in the end. SpaceX has some ambitious plans for it wants to put in motion from here on out, such as launching a rocket every two or three weeks.
Still, there are concerns from some – namely the US Government Accountability Office – that SpaceX may not be able to meet the goals it has in place for 2017. Here's hoping that SpaceX is able to turn this into a string of successes.
SOURCE: NPR