SpaceX BFR Mars rocket may be built in Los Angeles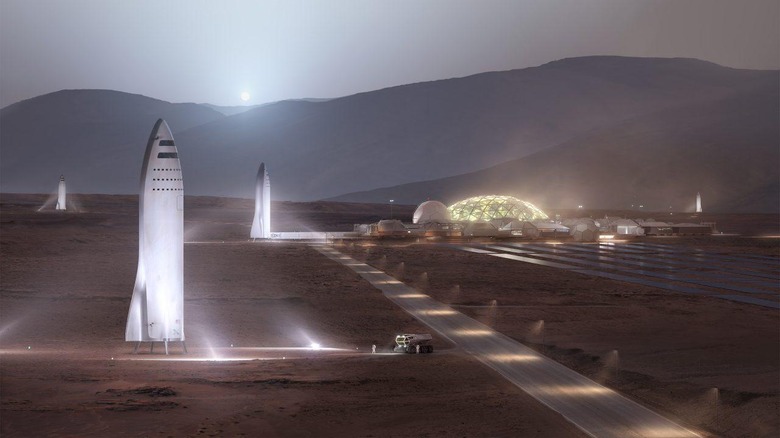 SpaceX's Mars rocket may be built in Los Angeles, a location that would give the company easy access to the water necessary to transport the huge rocket. Unlike the spacecraft it currently constructs in Hawthorne, California, SpaceX won't be able to transports its Mars rocket, the BFR, using roads. Instead, the company will need to ship the rocket using waterways, making a new document published by the Port of Los Angeles noteworthy.
The document was published earlier this month; in it, officials name WW Marine Composites LLC as the applicant. As recently noted by Ars Technica, WW Marine Composites is likely a SpaceX subsidiary. The document explains that WW Marine Composites has tapped a site at Berth 240 for "a new industrial manufacturing facility to design, develop, and manufacture prototypes and first-generation models of specialized commercial transportation vessels."
These vessels will be too big to deliver using roads, the document explains, meaning they'll have to be shipped on water and therefore the facility itself must be near water. The location spans 18 acres and would involve a decade lease with the option of renewing it for another decade up to two times. Currently located on the site, according to the document, are abandoned industrial structures, some paved areas, and compacted dirt areas.
Plans for the site include "general manufacturing procedures" like welding and painting, most of which will take place indoors. SpaceX is specifically mentioned in the document, as well: "In addition, the lease would accommodate recovery operations undertaken by Space Exploration Technologies to bring to shore vehicles returning from space that are retrieved by an autonomous drone ship offshore."
The private space company confirmed that it is exploring the location to Ars Technica, but didn't go into details and did not confirm that it would be used for the Big Falcon Rocket. All signs, however, point toward that being the case.
SOURCE: Ars Technica, Port of Los Angeles