Space shuttle Endeavour on its way through Los Angeles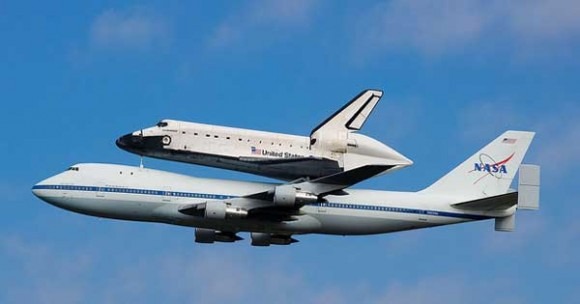 The space shuttle Endeavour began the final leg of its journey to the California Signs Center Museum yesterday. The shuttle was on the back of the giant trailer and is being towed through Los Angeles city streets. The trip will take two days even though the distance is only 12 miles.
The retired space shuttle is making its final parade lap through the streets of Inglewood and Los Angeles. People all around the area can travel to the shuttle's route and watch as it's towed down city streets to its end location. There will be some sort of choreographed dance tribute by the Fame actress Debbie Allen outside The Forum and the Endeavour will stop for the performance.
The custom-made NASA transporter will haul the space shuttle through the streets of Los Angeles, and that transporter is pulled by a quartet of computer-controlled vehicles. I mentioned previously that a Toyota Tundra pickup will pull the space shuttle on its final leg. Accommodations to allow the space shuttle to make it down the streets required some trees to be removed.
Some residents of Los Angeles complained that despite the fact that the removed trees would be replaced; it would take many years for the new growth to reach the same size as the old-growth trees that had to be removed. The California Science Center Foundation will be replanting up to four trees in place of each tree that had to be removed and providing two years of free tree maintenance. If you live in the area, and want to see exactly where the space shuttle will be at a given time of the day today and tomorrow a timeline is available at the source below.
[via MSNBC]