Space shuttle Endeavour exhibit to open today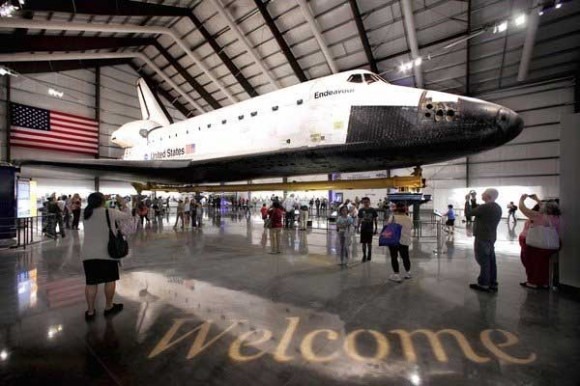 If you live in Los Angeles and didn't get a chance to see the space shuttle Endeavour as it was towed down the streets of Los Angeles to the California Science Center, you have another chance starting today. This chance doesn't involve the space shuttle being towed down city streets, but you will be able see the space shuttle in its new Pavilion. This Pavilion is a temporary spot for the space shuttle until the air and space wing opens in about five years.
Sadly, the inside of the space shuttle isn't open for exploration. However, the California Science Center does have a virtual display that lets you check out what the inside of the space shuttle looks like. The space shuttle galley and the space toilet were both removed and are being displayed separately.
I wonder how exactly they cleaned that space toilet before putting it on display. Many an astronaut rear end has occupied the throne over the years. The exhibit does place the shuttle far enough off the ground that visitors can walk underneath to see the tiles, including some that were damaged during the shuttle's final 25th mission.
When the official exhibit is completed in approximately five years, the space shuttle will be displayed in a vertical position as if it's ready to launch. It will also be displayed with its external tank and twin solid rocket boosters. I like the idea of the space shuttle in a horizontal position making it easy for visitors to check out.
[via LA Times]