Soundmatters FoxLv2 Bluetooth stereo speaker for iPhone and iPad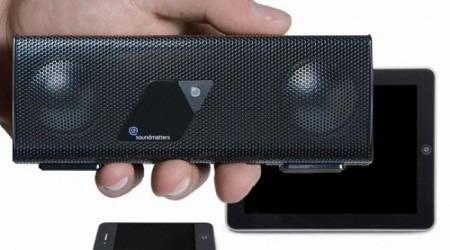 If you enjoy listening to music wherever you go, it's not always convenient to have to wear headphones or earphones. If you want to hear your tunes in a large room far from your source with several people, a portable speaker of some sort is typically the best bet. Soundmatters has a new offering for people that enjoy music called the foxLv2 that uses Bluetooth connectivity that is designed specifically with the iPhone 4 and iPad in mind.
The little stereo Bluetooth speaker measures 5.6" W x 2.2" H x 1.4" D and has an internal rechargeable battery good for 8-hours of playtime per charge. The speaker has full range audio with a frequency response from 80Hz to 20kHz. The little device promises deep bass with novel BassBattery technology that turns the battery into a woofer.
The device also has a mic so you can use the foxLv2 as a speakerphone for making calls without having to pick the smartphone up. Charging is done via USB and the little foxLv2 is priced at $199 and is available right now. The portable speaker may have been designed with the iPad and iPhone in mind, but the device will work with any Bluetooth music source including computers. A wired version is available at $169.