Sound Freaq SFQ01 hands-on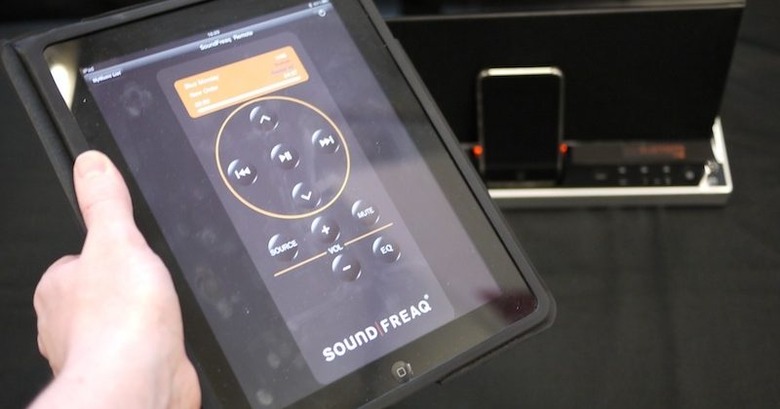 Is there still room for more iPod speaker docks?  New company
reckon so, and their SFQ01 is an attempt to take a slice of the lucrative market.  Designed with – as they themselves said – love-it or hate-it aesthetics, the slab-sided dock system promises above-average sound quality thanks to the company's own UQ DSP system.  Meanwhile, a companion iPad app allows for straightforward remote control, together with streaming from the Apple slate itself.
Download the app, and you can switch between the SFQ01's sources – an iPod docked in the speaker itself, the iPad streamed via Bluetooth, an FM radio or an aux-in source – together with remotely controlling the docked PMP or choosing from the iPad's own audio files.  Alternatively, you can pipe through music, soundtracks or game audio from the iPad, if you're unhappy with the quality from the Apple tablet's own speaker.
On the crowded ShowStoppers floor, the SFQ01 certainly sounded loud enough, though we'll need to spend some proper one-on-one time with it to see if it lives up to the sales pitch.  We're also cautious about audiophile-style claims, whenever regular Bluetooth A2DP is involved, since the format generally involves plenty of compression along the way.
The SFQ01 will land first in the UK, priced at £199.99.  In the US, the Sound Freaq SFQ01 will launch arrive in mid-October, in time for a November sales promotion in Target.  There it will be priced $199.99.