Soulo iPhone, iPad app-cessory instruments announced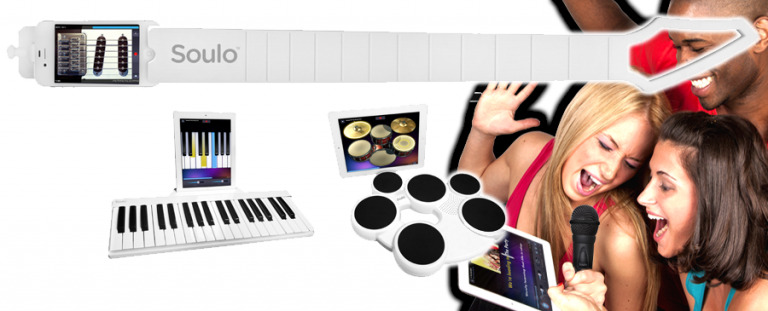 There's a whole new set of instruments for you to use with your iPad 2, iPad, iPhone, and iPod touch, all of them coming from Soulo and made to make your musical iDevice experience all the more exciting. These devices are what they call "app-cessories" and come in the following three forms: drums, keyboard, and guitar. It's not that these sorts of things haven't existed before, but each of the iterations they've got here are new – the iPhone guitar, for example, is hot.
Each of the instruments, the drums, keyboard, and guitar, plus the updated Soulo mic also announced this week will work together to create one big immersive Soulo music experience, each of them compatible with all of your iDevices. You've got enhanced audio and video recording features as well as holiday-themed song and backgrounds pre-loaded into the app, which is of course free on the iTunes App Store – that available soon.
For now you can peek at the Soulo Karaoke app made already available for the Soulo mic, and we'll have a peek and see if we can get some hands-on time on the floor at CES 2012. Look like something you'd be apt to use with your iDevices? Have a peek!