SOUL intros Party In A Box AirPlay and Bluetooth wireless speaker system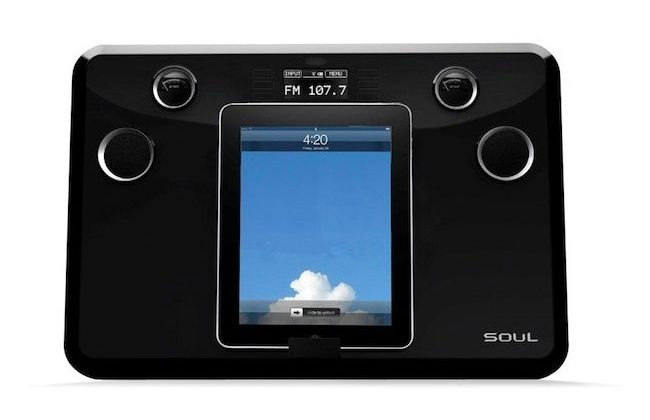 SOUL Electronics is introducing its new lineup of Ludacris audio products at CES 2012, which includes a wireless speaker system called Party In A Box that sports three different wireless technologies. You can also dock your iPad, iPod, or iPhone to the system. The company also introduced several new colors for its SOUL by Ludacris premium headphones.
The Party In A Box comes in a sleek black casing with aluminum accents and programmable multi-color perimeter lighting that looks sophisticated and yet is ready to party. It's an omni-directional hybrid system featuring eight speakers with dual 6.5-inch subwoofers, two 3-inch midrange speakers, and four one-inch tweeters to deliver a powerful and balanced full range of sound.
The system uniquely bundles three wireless technologies, including Apple's AirPlay, Bluetooth, and a 5.8GHz two-way transceiver that offers CD quality, uncompressed sound that can be synced with multiple Party In A Box units or with other wireless speakers. However, pricing and date of availability have not been announced yet.
As for the new headphones, SOUL is introducing seven new design and color concepts, including the SL300CG chrome gold and SL150CS chrome silver limited edition models. There's also a new white and gold finish SL100GW and in-ear models with the SL49NB green and black, SL49RB red and black, SL49PW pink and white, and the SL99W white and platinum.