Sophia Peartree MID reference design: touchscreen, Atom & SSD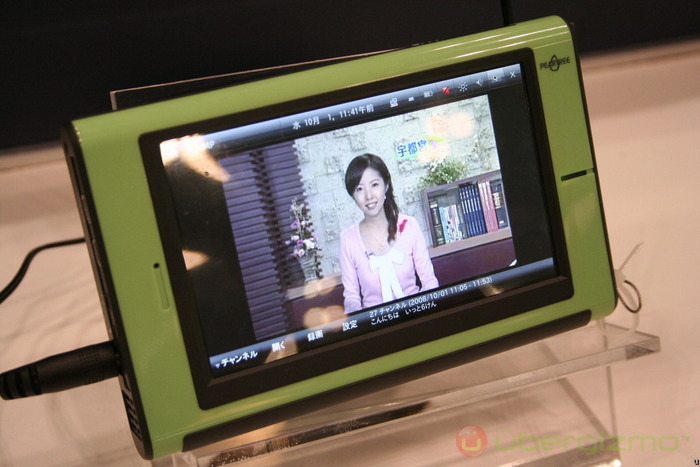 Sophia isn't a name you'll likely be familiar with, unless Mobile Internet Devices are your bread & butter, but you may nonetheless be interested in their Peartree MID reference design.  On show at CEATEC 2008 today, Ubergizmo got some live shots of the lime-green touchscreen device.  The specs are impressive for the size: an Intel Atom CPU, 4GB SSD storage and 5-inch WSVGA display (1024 x 600) display.
An optional accessory slice adds extra ports such as wired ethernet, a GPS receiver and a 40GB hard-drive.  It's a pretty ugly – and large – backpack for the Peartree, however, and I'm not surprised that Sophia weren't really advertizing it on the CEATEC show floor.
Meanwhile, Jenn at Pocketables has dug up some internal photographs of what exactly the Peartree reference design gets you.  Discovered at the company's European distributor, Direct Insight, they confirm the impressive connectivity and expansion options, including USB host, RS-232 serial, both PCI-Express and Mini Card I/F for WWAN and integrated W-SIM and SIM slots.  Still no word on possible pricing, though as Sophia are targeting developers rather than consumers it's really a moot point.