Sony's VAIO P is up for pre-order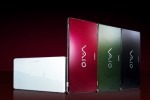 The new Sony VAIO P "ultraportable" is not suppose to start shipping in the US till February, but from the looks of it those who are dying to conceal one in their coat pocket or even carry it around in their back pocket for show can not pre-order theirs from the Sony Style store.
The tiny Sony VAIO P that weighs in at an amazing 1.4 pounds is selling online at this very moment. Just put down $899.99 to $1,499.99 an you will secure yourself one of the most incredibly small "ultraportables" come time that they begin shipping. Yes they are offering all the colors, you can choose from emerald green, crystal white, classic black, garnet red or onyx black when you order.
They even have a special custom engraving option whether your going to give it as a gift or are just paranoid that someone will snatch it only to never be recovered from a sea of like devices. Chances are the VAIO P is selling like hotcakes right this second, so get over there quick and reserve yours today.