Sony Uses Supermodels To Show Off Xperia Z's Waterproof Feature

In the modern world, consumers are barraged with a smorgasbord of products, which blur into a blinking, glowing, plastic haze after awhile. Companies need to put in some effort to catch potential buyers' attention, something Sony has achieved alongside T-Mobile with its Xperia Z live advertisement in the Czech Republic, which features a supermodel using it in the shower.
The demonstration took place in the window front of a T-Mobile store in the Czech Republic, where a clear shower was installed. Showing off the Xperia Z's waterproof capabilities in perhaps the most eye-catching way possible, a pink bikini-clad supermodel took the phone into the shower with her and used it in the water. As you can see below, this drew quite the crowd.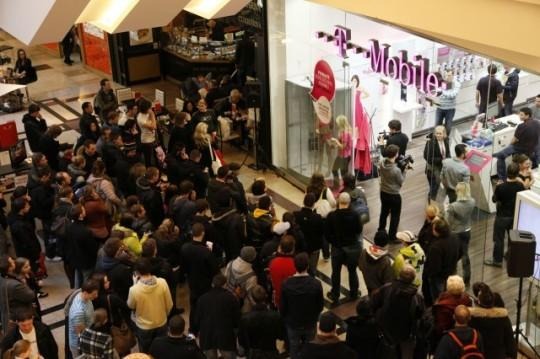 That was certainly a brazen way to launch a flagship handset, with the Xperia Z hitting shelves in the nation this week. Less anyone feel left out, a guy also tested the phone out in the shower, with the models taking turns. One thing is certain, those who happened to pass by aren't going to forget this live product show as fast as they would a 20 second TV commercial.
The Xperia Z is quite a nice handset, which we detailed in a full review that you can check out for yourself here. The handset features a 5-inch full 1920 x 1080p HD display, as well as a quad-core processor, 13.1-megapixel camera, and, of course, a completely waterproof design. It runs Android 4.l Jelly Bean.
[via Android Community]