Sony's refreshed Handycam lineup has 4K, new features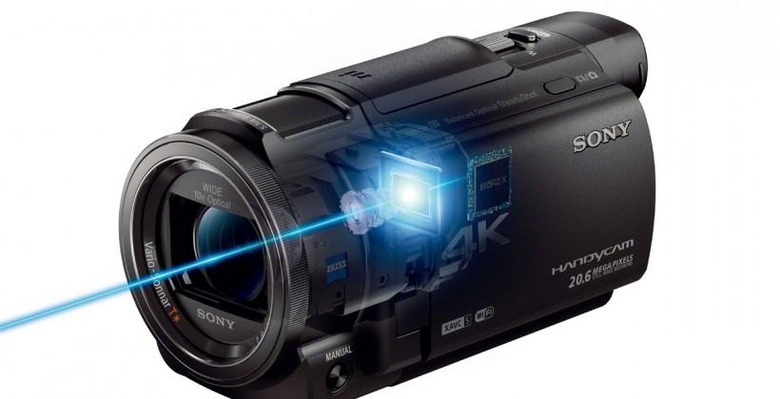 In Las Vegas, Sony is introducing their newest Handycams at CES 2015. The lineup is mostly an update to their existing lineup, but Sony seems to have cracked the 4K code at CES this year. In addition to their Action Cameras, Sony has brought 4K to the Handycam by way of the FDR-AX33. The camcorder is the most compact 4K Handycam to date, checking in 30% smaller and 20% lighter than Sony's current 4K Handycam, the FDR-AX100.
The new FDR-AX33 laso has improved SteadyShot features, which Sony calls Balanced Optical SteadyShot (B.O.SS). B.O.SS offers 4K recording at 100Mbps, and 30fps.
Sony says B.O.SS will bring blur-free imaging for shots ranging form wide-angle to telescopic. The impressive 100Mbps comes courtesy of the XEVC S video format.
Advanced videographers will enjoy Sony's new manual controls, where a customizable manual ring can be assigned key functions. The viewfinder also has three-times the resolution of previous models, according to Sony.
In addition to 4k, Sony is also bringing in four new Handycam models capable of HD shooting. The HDR-PJ670, HDR-PJ440, HDR-CX440 and HDR-CX405 are all HD-capable camcorders, and pack advanced features existing Handycam customers will feel right at home with.
Image stabilization has improved, and Sony is making the XAVC S format available to these camcorders as well (HD captures at 50Mbps, here). The aforementioned B.O.SS is also included, or users can opt for a SteadyShot with Intelligent Active mode.
Both the HDR-PJ670 and HDR-PJ440 have built-in projectors for playback.
All new camcorders pack Sony's Highlight Movie Maker, which takes highlights from your shoot and makes a nice little highlight reel for you. Sony is also making Multi Camera Control available here, which allows users with a QX Lens or Sony Action Cam on the same WiFi network to work in unison, shooting at various angles and feeding into the same footage reel.
Sony's FDR-AX33 will be available in February, and retail for about $999. The HDR-CX405, like all the rest of Sony's Handycams listed here, will be available this month. HDR-CX405 retails for $230, while the HDR-CX400 checks in at $300. Sony's better HDR-PJ400 will run you $400, while the top-end HDR-PJ670 will retail for $700.