Sony's PlayStation Home to celebrate July 4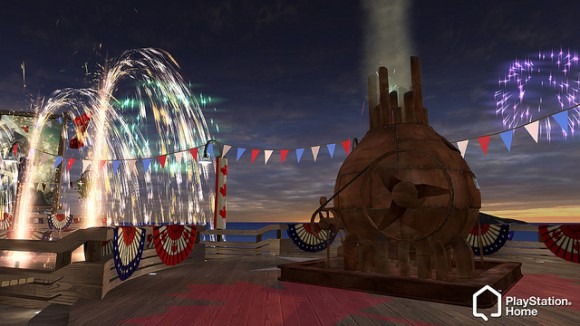 If you weren't invited to a party, if you don't live near a spot where fireworks will be lighting the sky tomorrow night, and if you just really have nothing better to do with your time, Sony will be getting festive on your behalf in the virtual world of PlayStation Home. Special events and exclusive items are up for grabs if that's where you want to spend your Independence Day.
In terms of the latter, anyone who visits the casino inside Home will receive a free Uncle Sam Top Hat. A handful of new digital apparel items are also being added for purchase, like star-studded vests and red-and-white-striped skirts. In addition, if you head to Pier Park, you'll be met with a whole bunch of patriotic decorations and a "very special reward" for those who visit tomorrow.
And finally, no 4th of July celebration would be complete without fireworks. So players can activate their Pyrotechnic Overhead Display Interface (PODI) to create a dazzling fireworks show on the spot. "PODI is a friendly little machine who loves attention. The more time you spend with him creating displays and setting them off, the happier he becomes and when he's happy, PODI loves to give out rewards. Some of them are for everyone, some are just for you – spend time playing with PODI to make sure you get them all," Sony explained in a blog post.
[via PlayStation Blog]