Sony's new Ultraportable TZ range breaks cover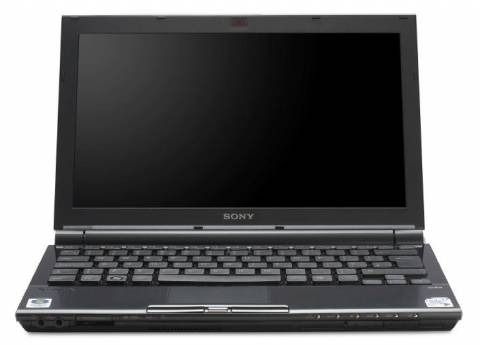 We knew Sony had a sexy little Ultraportable waiting in the wings, we just didn't know when it might drop and what might be inside of it. Well thanks to French retailer Grosbill, who seem to have got trigger-happy with their product listings, the VAIO TZ range has been unveiled.
More photos and complete specs after the cut...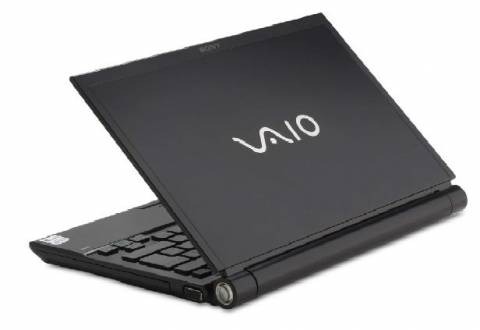 Two models were listed, VAIO TZ11MN/N and VAIO TZ11XN/B, seemingly differentiated only by basic hardware choices such as RAM, hard-drive and lid colour (1GB, 80GB and silver, respectively, on the N; 2GB, 100GB and black on the B). Otherwise it's niceties such as the 11.1-inch X-black LED-backlit display (running at WXGA 1366 x 768), built in DVD re-writer, gigabit ethernet, a/b/g WiFi and Bluetooth 2.0
No release date has been established yet, nor prices, but they're expected to be released at some point in the Summer.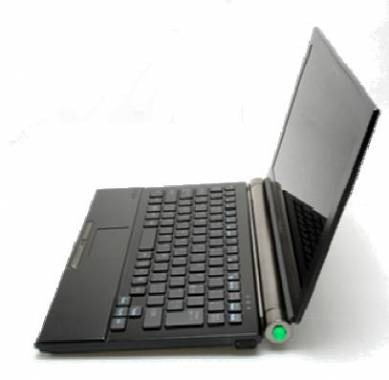 VAIO VGN-TZ11MN/N
# Processor: Intel Core 2 Duo U7500, 1.06 GHz
# OS: Windows® Vista Professional
# Memory: 1GB DDR2 SDRAM (max 2GB)
# Hard Drive: 80 GB Ultra ATA (4200 rpm)
# Optical Drive: DVD+-RW/+-R DL/RAM
# Screen: 11,1" X-black LCD with LED backlight, WXGA (1366 x 768)
# Graphics: Intel Graphics Media Accelerator 950
# Ethernet (1000Base-T / 100 BASE-TX / 10 BASE-T);
# Modem: V.92/V.90
# Wireless: Wi-Fi IEEE 802.11 a/b/g, Bluetooth 2.0 + EDR support
# Microphone integrated
# Protection: Shock protection G-Sensor Hard Drive
# Instant On technology
# Ports:
* 1 i.LINK (IEEE1394, 4 Pin), 400 Mbps port
* 1 DC in
* 1 Audio out
* 1 RJ-11 Modem
* 1 RJ-45 Direct Port (Network)
* 2 USB 2.0 Port
* Fingerprint reader
* 1 VGA port connection
* 1 Microphone
* 1 SD card Slot
* 1 Express Card 34mm
* Memory Stick Reader (Duo, Memory Stick PRO duo, MagicGate)
* "Motion Eye" Camera ( 20 Images per second), 0.3 Mega Pixels, max video resolution VGA (640x480)
VAIO VGN-TZ11XN/B
# Dimensions: 7.8-in x .89-in – 1.17in x 10.9-in (198 ,2 mm x 22.5-29.8 mm x 277 mm)
# Weight: 2.62lbs
# Processor: Intel Core 2 Duo U7500, 1.06 GHz
# OS: Windows Vista Professional
# Memory: 2GB DDR2 SDRAM (max 2GB)
# Hard Drive: 100 GB Ultra ATA (4200 rpm)
# Optical Drive: DVD+-RW/+-R DL/RAM
# Screen: 11.1" X-black LCD with LED backlight, WXGA (1366 x 768)
# Graphics: Intel Graphics Media Accelerator 950
# Ethernet (1000Base-T / 100 BASE-TX / 10 BASE-T);
# Modem intégré V.92/V.90
# Wireless: Wi-Fi IEEE 802.11 a/b/g, Bluetooth 2.0 + EDR support
# Microphone integrated
# Protection: Shock protection G-Sensor Hard Drive
# Instant On technology
# Ports:
* 1 i.LINK (IEEE1394, 4 Pin), 400 Mbps port
* 1 DC in
* 1 Audio out
* 1 RJ-11 Modem
* 1 RJ-45 Direct Port (Network)
* 2 USB 2.0 Port
* Fingerprint reader
* 1 VGA port connection
* 1 Microphone
* 1 SD card Slot
* 1 Express Card 34mm
* Memory Stick Reader (Duo, Memory Stick PRO duo, MagicGate)
* "Motion Eye" Camera ( 20 Images per second), 0.3 Mega Pixels, max video resolution VGA (640x480)
# Dimensions: 7.8-in x .89-in – 1.17in x 10.9-in (198 ,2 mm x 22.5-29.8 mm x 277 mm)
# Weight: 2.62lbs
Sony VAIO TZ Ultraportable [Notebook Review]