Sony's Christmas Present: another Memory Stick format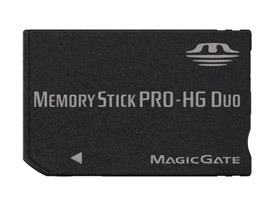 Okay, Sony, you win – I promise I'll be nice about the PS3 and not post anything negative, just stop releasing more and more variations of memory card!  Yes, that's right, confused consumers can now add "Memory Stick PRO-HG Duo?  Bwuh?!" to their repertoire, thanks to the launch of yet another tiny format.  This one, apparently, uses an 8-bit parallel interface to achieve transfer speeds of up to 480Mbps (or 60MB/s theoretical), making it three times faster than good old Memory Stick PRO.
Seriously, how many does this make now?  I'd go to the Sony site and count, only I'm afraid that the sheer shock would make me choke on my own vomit.  The saving grace for PRO-HG is that it's backwards compatible with products that use the PRO Duo cards, albeit capped at the lower speed that standard supports.  They also potentially allow up to 32gb capacity, though Sony is careful to point out that they're not guaranteeing there'll be such a model.  Prices and availability to be confirmed.
Press Release [Sony]