Adding to this week's Sony leak, we are now getting what are supposedly the specs for a certain D580x, allegedly the model name for the Sony Xperia Z3 compact. Not the regular one, but the mini variant. Those specs include a Snapdragon 801 and a handy 720p display, details you would commonly hear on high-end specs.
Then again, Sony hasn't exactly been stingy when it came to arming its compact miniatures for battle. The Sony Xperia Z1 compact came quite close to the flagship that it wasn't too much of a downgrade if you wanted to trade a bit of power for the ability to comfortably hold the smartphone in one hand. Not usually the case for other manufacturers out there.
These details for the Xperia Z3 compact come from DooMLoRD, a fixture in the Xperia community and a tad more reliable than some random leak source. According to him, the compact version of Sony's next flagship will sport the top of the line 2.5 GHz quad-core Snapdragon 801. Not the 805, mind you, but it's not a total loss. The screen is scaled to 4.5 inches, though the resolution is capped at 720p. Not 1080p but definitely not bad for a small device.

The rest of the specs sound on par with a Sony mini flagship. In fact, it sounds almost just like the Xperia Z1 compact. That means 2 GB of RAM and a 20.7 megapixel rear camera. It isn't exactly surprising, given we're talking about Sony, but the company entire lineup, which don't really differ that much from previous generation, is the one that's totally perplexing.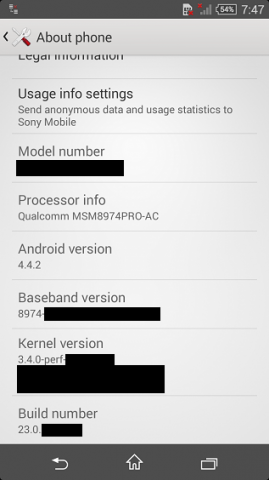 One thing that's quite amusing about these recent leaks is that we're already talking about the Xperia Z3 compact when the Xperia Z2 compact has yet to make an appearance. Sure, the Xperia Z2a sounds and looks a lot like what an Xperia Z2 compact would be, but that smartphone is exclusive to Taiwan and Sony has not yet given any confirmation of that association. Given that the manufacturer is expected to announce the Xperia Z3 itself in a few months, it is possible that the mini version will be skipping a generation and jump ahead to an Xperia Z3 compact instead.
VIA: Gizmobolt