Sony Xperia Z2 Tablet arrives as world's first waterproof slate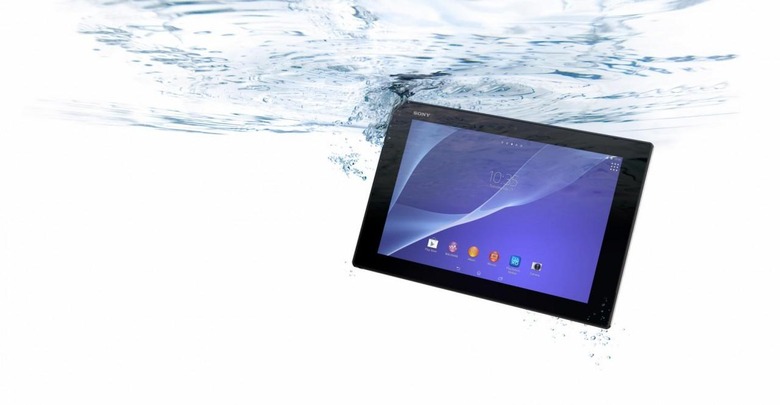 In what Sony suggests is the world's first (larger than 8-inch) waterproof tablet, the Xperia Z2 Tablet is born. This machine works with a 10.1-inch Full HD (1080p) display with Triluminous for mobile technology and Live Color LED powered by an X-Reality for mobile engine. Needless to say, this is Sony's most powerful and strangest tablet to date.
What you're seeing here is a tablet with S-Force Surround Sound technology as well as Digital Noise Canceling – similar to what we're seeing in the Xperia Z2 smartphone. This technology works with Sony's MDR-NC31EM Noise Canceling headset to "reduce ambient noise by up to 98%."
Sony says that this is the slimmest and lightest waterproof tablet ever made. They back this up with a 6.4mm body, 426g (or 439g if you want LTE/3G) for weight, and IP55/IP58 waterproofing.
Inside you'll find the same processor as exists in the Sony Xperia Z2 smartphone with the Qualcomm Snapdragon 801. This is a 2.3GHz quad-core processor with Adreno 330 GPU – both devices also include Sony's "Stamina Mode" for long-lasting battery life. The battery under the hood here is a massive 6000mAh to boot. You'll be rolling with 3GB of RAM, too.
Like most modern Sony smartphones and tablets, the Sony Xperia Z2 works with the Sony DualShock 3, the official wireless PlayStation 3 controller with Bluetooth. Controls work right out of the box, and there's an ever-growing number of controller-friendly apps on the market today as well.
This device also comes with "6 blockbuster movies from Sony Pictures including Captain Phillips", which we're still waiting to find out about specifically from Sony. It likely means that with the purchase of the tablet you'll get 6 free movie downloads from Sony's own collection. Users will also get a 30 day free trial of Music Unlimited.
This device will be launching globally starting in March of 2014 with a couple of color variants – white and black, of course. We'll be coming back at you with full pricing and release information as soon as we have it. Until then, sit tight – we'll be grabbing hands-on action with this machine at Mobile World Congress 2014 as soon as we can!