Sony Xperia Z2 finally makes its US debut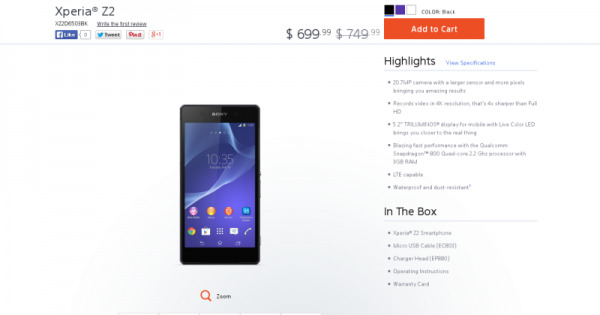 Just a few weeks after Sony made available the Xperia Z1 Compact in the US, which itself came 6 months after it was announced, the OEM is making another one of its high-profile smartphones available in this market. Delivering on its promise of a Summer 2014 release, Sony has put up its Xperia Z2 flagship on its online web store, complete with a time-limited $50 discount.
In typical Sony fashion, it took its sweet time to bring the Xperia Z2, available already in other markets, to the US. Most manufacturers tend to launch in the US close to announcement, but Sony doesn't seem to be in a rush to cater to this primary smartphone market, even for its flagship devices. Whether that behavior will continue in Sony's favor is left to be seen, but it places the Xperia Z2 at a slight disadvantage.
The flagship meant for the first half of 2014 is undoubtedly quite topnotch but it also looks more like an increment over the Xperia Z1. It shares many features with last year's model, though in a slightly larger size. The 1080p display, the 2.3 GHz Qualcomm Snapdragon 800, and the 20.7 megapixel camera smells a lot like the Xperia Z1. Of course, there are notable improvements, like 3 GB of RAM and 4K video recording, but it does leave some Sony fans questioning the worth of an upgrade.
The situation is made more complicated by Sony's promise to refresh its line in 6 months. With IFA 2014 approaching soon and talks of an Xperia Z3 already going around the Internet, many will be waiting to see if the next flagship will be a more notable standard bearer for Sony's Android line. It's late arrival and the shadow of its successor looming over its head might leave the Xperia Z2 a bit neglected.
For sure, there will be fans excited to get their hands on the current flagship, and those in the US can finally make that a reality, with some icing on top even. For an unknown amount of time, Sony is offering the Xperia Z2 for $699,.99, down from a regular retail price of $749.99. Of course it can only be brought from Sony's store but does come unlocked. The only problem now is that the smartphone is marked as backordered, with no indication when new stock will arrive or when orders will start shipping.
SOURCE: Sony