Sony Xperia Z: Hands-on with the Waterproof 1080p powerhouse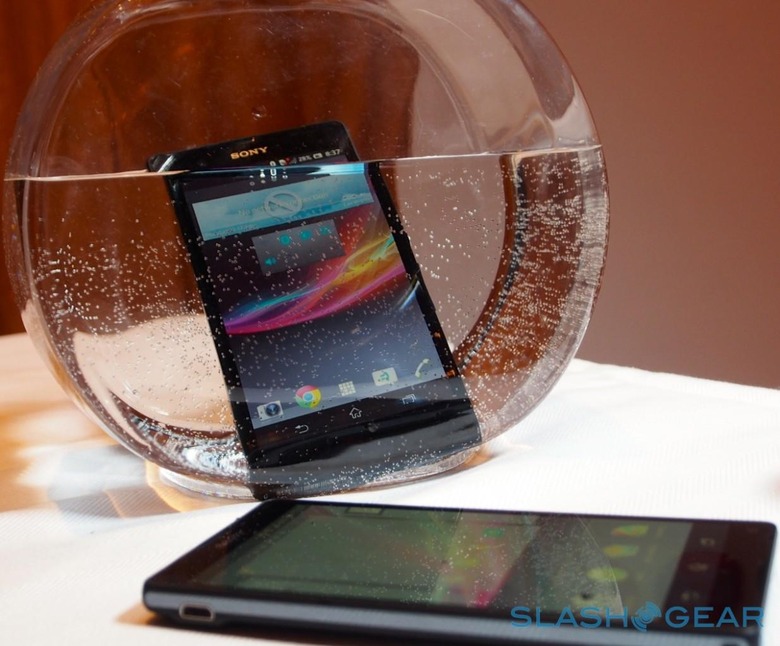 Sony is starting 2013 with a bang, in the shape of the new Sony Xperia Z smartphone, a 5-inch 1080p powerhouse that wraps a 13-megapixel camera, quadcore S4 Pro processor, and 4G LTE in a waterproof glass casing. Revealed at CES today, and beginning a global roll-out in Q1, the Xperia Z puts Sony back on top of its game (and leaves us wishing Sony, not LG, was picked for the latest Google Nexus product). Read on for our hands-on first impressions.
When it comes to specs, the Xperia Z ticks all the right boxes. Measuring in at 139 x 71 x 7.9 mm and 146g, it runs Jelly Bean on Qualcomm's S4 Pro APQ8064+MDM9215 quadcore with Adreno 320 graphics and 2GB of RAM; Sony tells us that it'll be Android 4.1 at launch, with a 4.2 upgrade "shortly after" that. Connectivity includes LTE and HSPA+, depending on local market, along with WiFi, Bluetooth 4.0, NFC, MHL-HDMI, aGPS/GPS/GLONASS, and a microSD card slot for up to 32GB cards. Internal storage clocks in at 16GB.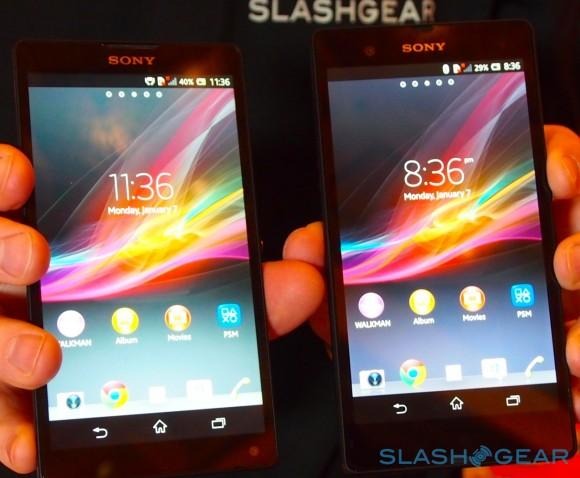 Inside, there's a 2,330 mAh non-removable battery good for up to 14hrs of UMTS talktime or up to 510hrs of LTE standby. However, Sony also adds a Battery STAMINA Mode option to the settings, which – when enabled – turns off any background data use while the screen is turned off. A whitelist allows select apps to remain active, but Sony says that with STAMINA turned on, runtime is extended up to fourfold. The system learns from your usage style and that of different apps, too, automatically adjusting its runtime estimate according to which apps are in the whitelist.
Sony Xperia Z overview:
As for the cameras, that's a 13-megapixel sensor on the back and a 2-megapixel version on the front; the main camera uses Sony's Exmor RS technology for better quality, and the interface features elements pulled from Sony's CyberShot line. A "Superior Auto" mode adjusts the scene according to lighting, movement, and subject conditions, while a burst mode can continuously capture 10fps at 9-megapixels until your battery (or storage) expires. Sony is particularly proud of its HDR technology, which is used not only in still photos but in video capture too.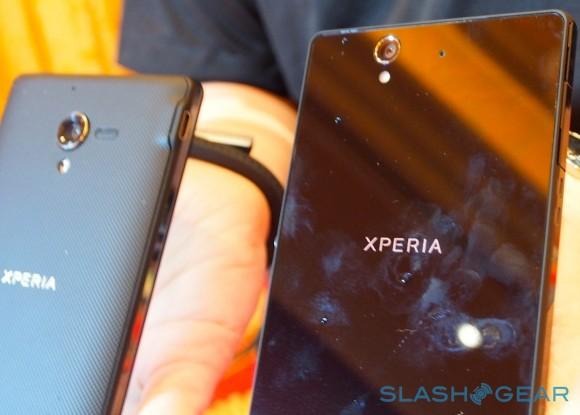 Those videos look particularly good on the Xperia Z's display. The new flagship features the latest iteration of screen processing software from Sony's HDTV range, Mobile BRAVIA Engine 2, which does real-time processing to make video content more colorful and engaging. It looks fantastic on the 5-inch TFT LCD HD Reality Display, with bright colors and crisp edges that don't look over-saturated in comparison to some AMOLED panels of the moment. On top is a layer of scratch-resistant, shatterproof glass.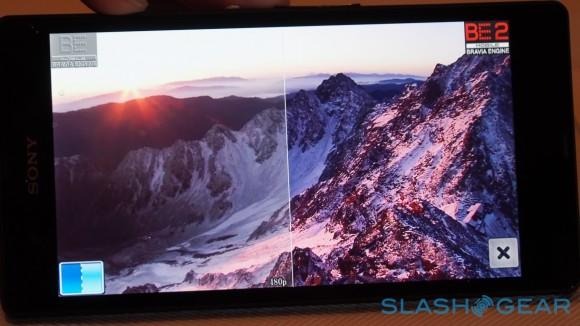 There's shatterproof glass on the back, too, and glass-like inserts in the subtly curved sides. However, rather than being prone to smashing, the Xperia Z meets IP55 and IP57 dust and water resistance specifications, and can survive being immersed in (clean) water for up to 30 minutes with no issues. Even the power button is special: Sony has milled it precisely from aluminum, after its research found that the average user presses the key 64 times a day.
Sony Xperia Z walkthrough:
As for NFC, Sony will be using that as the "enabler" for a push in distributed media sharing around the home. Alongside the Xperia Z there's a new Stereo Bluetooth Headset SBH20 and Wireless Headset DR-BTN200M, both of which can be paired via NFC simply by holding the Xperia Z nearby. Sony also has a new five-strong range of Smart TVs for CES, which include NFC in the remote control for easily pairing the phone with the TV and then streaming video over WiFi Direct.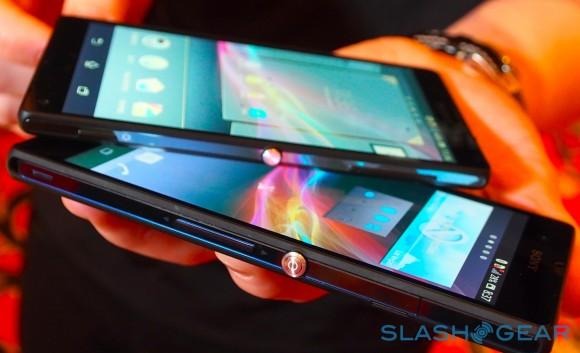 Certain markets and carriers will get the Sony Xperia ZL, a second variant on the Xperia Z. It shares almost all of the specifications as the regular Xperia Z, but in a shorter, slightly thicker housing; it's also not waterproof.
Sony isn't talking pricing at this stage, nor confirming exact US availability or which carrier(s) might have picked up the Xperia Z or Xperia ZL. Still, from everything we've seen here at CES, this is the most compelling Sony handset in some time.
Sony Xperia Z hands-on: