Sony Xperia Tablet Z hands-on: Slim is in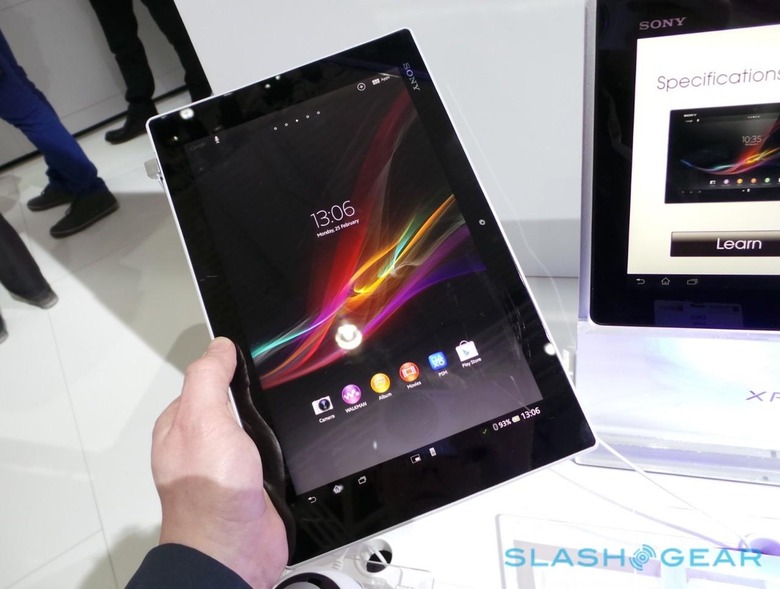 Sony's track record with tablets has been mixed, but the Xperia Tablet Z is undoubtedly the company's best play for the slate market so far. Slotting a bright, colorful 10.1-inch display running at a hefty 1920 x 1200 resolution into a waifishly-appealing 6.9mm thick chassis, the Xperia Tablet Z borrows its smartphone sibling's water resistance, meaning that while you might not be able to take it into the shower, it can at least hold up to random splashes poolside.
As per the phone, the Tablet Z has glass side panels inset into a glass-polymer chassis; it lacks the full glass back, however, making do with a plain, slightly dull expanse of matte-finish plastic. It's not exactly cheap-feeling, but neither does it have the same premium touch as, say, an iPad, and it's not as grippy as the coating Samsung used on the Nexus 10.
Still, you can forgive a lot when you look at the screen. Again, it pales in comparison to the Apple and Samsung panels, in pixels at least, but the WUXGA resolution still looks fantastic, and the colors and viewing angles are particularly good. Sony has implemented its latest Mobile BRAVIA Engine 2 again, which does magical things to increase contrast and bolster colors in video playback; thankfully its not quite as rabid in its processing as previous iterations of the technology, which had a tendency to leave footage looking unnatural.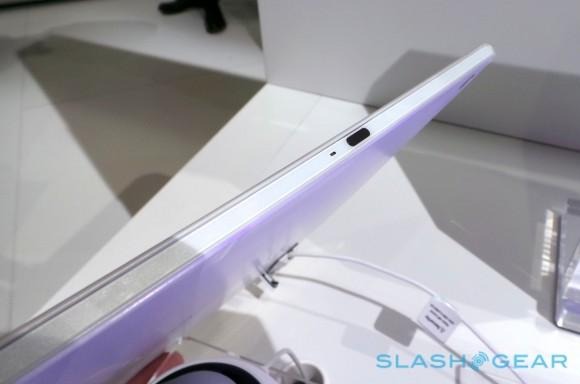 Sony hasn't held off on custom software, and the Xperia Tablet Z comes preloaded with a universal remote app that works with the IR blaster on the leading edge of the slate. That can figure out which TV, cable box, DVR, and other home entertainment hardware you have, and allow you to control them all from the slate's interface. There's also a useful mini-remote pane that can be pinned on top of the regular Android 4.1 Jelly Bean UI, great to make quick channel and volume adjustments while you're browsing, reading, or writing emails.
Sony Xperia Tablet Z hands-on:
Performance from the quadcore processor is tricky to judge amid the limits of the MWC show floor, but we've seen good things from Qualcomm's Snapdragon S4 Pro before, and we couldn't get the slate to bog down during our playtime. The MHL-HDMI output – as well as DLNA streaming support – should prove the Xperia Tablet Z's mettle, too, assuming it can pump out the Full HD footage Sony promises.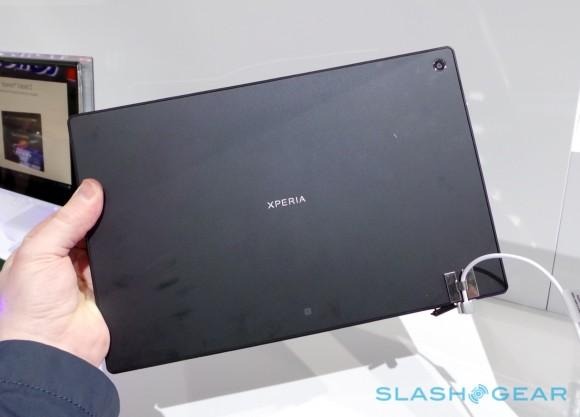 Elsewhere, there's all the things you'd hope for from a modern tablet, including WiFi a/b/g/n, Bluetooth, NFC – which Sony is pushing as an easy way to pair the slate with other devices, such as wireless speakers – and the option of HSPA+. Sony also expects up to eight hours of battery life, thanks in part to its Battery STAMINA mode which keeps standby wireless radio use on a tight leash.
The proof of the pudding will be in the performance, of course, and that we won't know fully until the Xperia Tablet Z's worldwide launch sometime in Q2. It's certainly priced to take on the fourth-gen iPad with Retina Display, from $499 for the 16GB model in the US.