Sony Xperia S Review
The Sony Xperia S is something of a smartphone stepchild: the first smartphone to bear Sony's sole brand in recent years, but developed under the loving care of the Sony Ericsson partnership the Japanese company bought itself out of. It certainly ticks a lot of the right boxes – 720p HD display, high-resolution 12.1-megapixel camera and some reasonably distinctive design – but we've seen our fair share of Android handsets over-promise and under-deliver. So, hangover from the past or a sign of things to come? Check out the full SlashGear review after the cut.
Hardware
Unapologetic in its squared-off, angular heft, the Xperia S is a solid, creak-free slab of a phone finished in soft-touch plastic and neatly recessed glass. Accommodating a 4.3-inch display demands a 5 x 2.5 x 0.4 inch casing, however; this isn't a small handset, and at 5.1oz it's reasonably weighty. Most distinctive is the strip of transparent plastic separating the end-cap – which on the Xperia U is interchangeable, but here is fixed – from the body of the smartphone as a whole.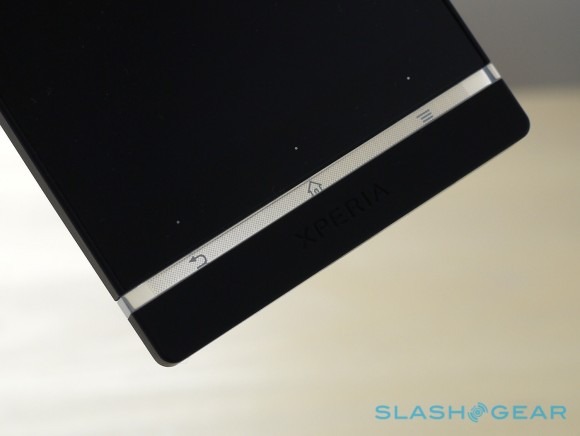 It's an eye-catching design tweak, and there's a moment of real surprise when you realize you can see your hand all the way through. Sandwiched inside are the illuminated logos for back, home and menu, though the touch-sensitive buttons themselves are actually just above, highlighted with tiny dots in the strip beneath the display. Sometimes we'd find ourselves aiming for the transparent section and having to double-stab to make sure we actually got the button we were aiming for.
The rest of the hardware is a mixture of the eminently sensible and the ridiculous. You get a dedicated camera shortcut key along with the volume rocker on the right edge, together with the power/lock button and a neatly bevelled headphone jack on the top, together with separate ports for microUSB and micro HDMI. Unfortunately Sony insists on putting fiddling covers on top of both of them. On the back there's the stacked row of the 12.1-megapixel camera lens, an LED flash, speaker and microphone; the whole cover clicks up to remove.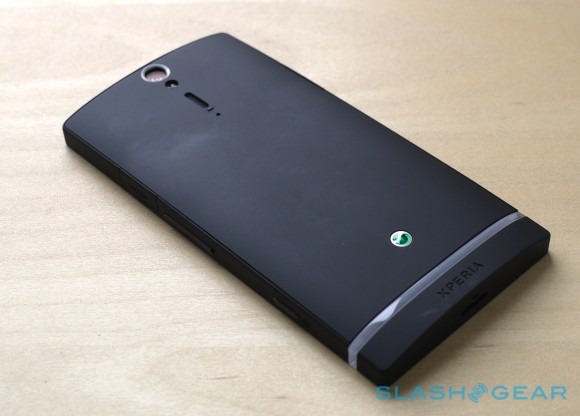 Unfortunately, once you actually get the cover off, there's no much to see. The Xperia S' 1,750 mAh battery is non-user-accessible, and there's no microSD card slot, only 32GB of data storage and up to 1.5GB of app storage. In fact, all you reveal is the microSIM slot, and we're not sure why Sony didn't just add another, smaller notch to drop that in and do away with the removable back panel altogether.
The crowning glory of the Xperia S is probably its display. Sony has had some great mobile panels on previous models, using the company's Mobile BRAVIA Engine to boost contrast and make for inky blacks, and the same technology is used on the 4.3-inch 1280 x 720 TFT panel here. It's crisp and beautifully pixel-dense, though viewing angles drop off quicker than, say, the Super AMOLED HD of the Galaxy Nexus. Still, face-on there's plenty to like about this screen, even if Sony appears to have deleted the auto-backlight option from the settings.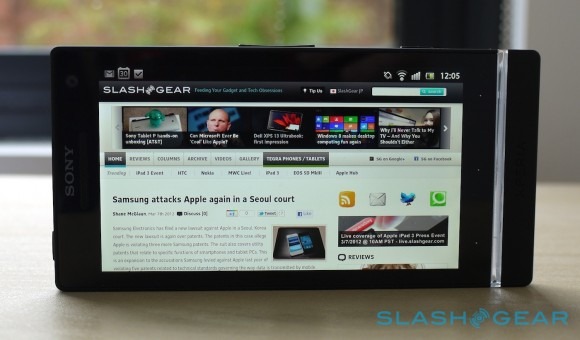 Above is a 1.3-megapixel camera capable of 720p HD video, along with an LED indicator light. On the inside, meanwhile, there's a 1.5GHz dualcore Qualcomm Snapdragon S3 MSM8260 chipset paired with Adreno 220 graphics and 1GB of RAM. Connectivity includes quadband UMTS/HSPA (850/900/1900/2100) and quadband GSM/EDGE, along with WiFi b/g/n (2.4GHz-only), Bluetooth 2.1+EDR and NFC, plus there's the usual selection of A-GPS, accelerometer, ambient light sensor (which we're assuming simply can't be turned off, given the missing setting), digital compass, gyroscope and proximity sensor.
Software
Sony would like us to believe Android 2.3 Gingerbread is good enough at launch for the Xperia S. It's not. With Ice Cream Sandwich several months old, launching a new phone – a flagship, no less – with any version earlier is unforgivable. Sony attempts to redeem itself with the promise of an Android 4.0 upgrade sometime in Q2 2012, but we'll save the kudos until software actually hits devices.
Without ICS, what you get is Sony's own custom Xperia skin, along with several preloaded apps and features of differing usefulness. There are the usual Android cluster – Gmail (though not the improved version of 4.0), YouTube, Google Maps and the Android Market, among others – then some of Sony's own devising, such as a new camera app, PlayNow music app, Timescape with social networking integration, and TrackID for identifying music. Music Unlimited and Video Unlimited get menu shortcuts but lead to Sony's site for you to actually download the apps themselves.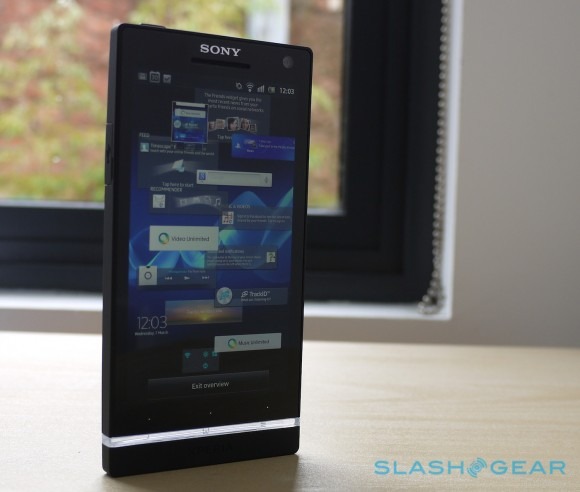 The UI itself is clean and reasonably intuitive, though Sony does clutter up most of the five homescreen panes with widgets from the start. The lockscreen gets basic notifications, though no HTC Sense-style shortcuts. A pinch-zoom gesture shows a floating cloud of all those widgets rather than the more traditional preview thumbnails of the panes themselves, and Sony has built in a useful screenshot tool, with an option in the power menu accessed by holding down the power/lock button.
The Xperia S is also PlayStation Certified, which means you have a selection of (paid) PSOne classic titles to choose from. None of them particularly put the 341ppi display or dualcore processor through their paces, however, and there are more impressive games to be found in the Android Market. When Sony finally gets its "four-screen" strategy – phones, tablets, PCs and TVs interconnecting – up and running there might be more appeal here. Unfortunately, there's a distinct case of Mac-blindness when it comes to hooking up the Xperia S to a computer, such as to transfer across photos, music or video: the phone doesn't show up as an external drive, and asks for Sony's own Windows-only PC Companion app.
Update: Sony has a "Bridge For Mac" app helpfully buried on its site, allowing for drag-and-drop file management as well as sync with iPhoto and iTunes. You'll need this running on any Mac you want to swap files with.
Generally, the dualcore processor keeps things moving swiftly, and we experienced no lag or slowdown aside from with a more well-packed Gmail inbox (something even the most powerful Android phones seem to take issue at). It's no quadcore, like the latest from HTC and others, but we're yet to see apps that actually take full advantage of having all those cores, and there are obviously battery compromises there too.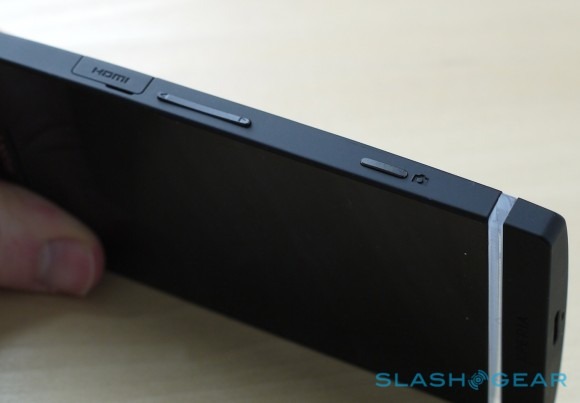 NFC
Near-Field Communications has been floating around on Android devices for some time now – in the US, the Nexus S has been taking advantage of Google Wallet for contactless payments for months now – but we're yet to see the system tip fully over into the mainstream.
Sony believes the answer is Xperia SmartTags, small NFC-enabled stickers that allow you to trigger different settings by holding your phone nearby. It's a half-hearted effort in some ways, though. At the moment, not all of Sony's new Android range actually supports NFC – the Xperia P announced at MWC 2012 last week does, but the U doesn't, for instance. Still, if Sony can convince third-party manufacturers to include NFC tags in their accessories, the SmartTags system could find its feet.
Even if you don't use the new tags, there are other basic automation features offered on the Xperia S. Plug in the charger or some headphones, for instance, and you can have an app automatically load: useful if you want to kick the Xperia S into desk-clock mode, for instance.
Camera
With 12.1-megapixels and Full HD video recording, the Xperia S is setting out its multimedia ambitions early. Sony's recent high-end smartphones have featured solid camera abilities, and in general the Xperia S continues that track-record. The dedicated shortcut key – a two-step button for locking focus and then firing off a frame – can load the camera even when the phone is locked (though if you have a PIN you'll have to punch that in first), and you can choose to have an on-screen control, tap-to-take or solely use that physical button.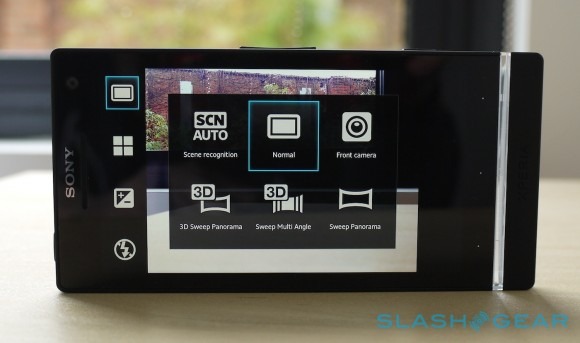 If you choose tap-to-take then the focus is locked wherever you touch the screen. Otherwise it's a matter of locking that with the hardware key, or dropping out of Scene Recognition mode and selecting touch-focus manually. You also get smile and face detection, multi-auto focus, as well as a digital image stabilizer. Sony may not have a special multi-power LED flash like HTC's new One Series, but the Xperia S did a solid job of lighting the scene without drowning it. We did often find ourselves accidentally covering the lens with our finger while holding the camera up, however.
The end results are detail-filled and show accurate colors, with focus locking fast. Low-light shots inevitably suffer from increased noise, but close-ups are particularly impressive. Video, meanwhile, offers center, average or spot metering along with single-point, face detect or infinity autofocus, and produces up to 1080p Full HD clips. They're solid though not the most outstanding we've seen from a smartphone, though the 30fps rate keeps them smooth.
As always, there are a couple of gimmick shooting modes to play with. A panorama tool allows you to create wide shots by panning the Xperia S across the scene, while a 3D panorama mode does the same but – when the handset is plugged into a 3D-compatible TV via the HDMI output – promises to show the end result in 3D instead. After a brief play, though, both went generally untouched.
Phone and Battery
Audio performance from the Xperia S proved satisfactory, with both the earpiece and speaker being loud and clear during calls. We had no problems with reception, either. Sony's bundled hands-free kit is a step up from the basic cheap set you'll see included with most phones, but it's not a huge step.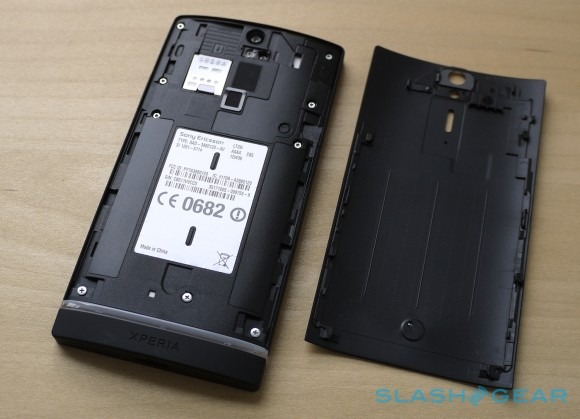 With a non-removable battery, the Xperia S will have to live up to its 8 hour 30 minute talktime estimates or 420 hours standby estimates if users aren't to be disappointed. In practice, the Sony proved par for the course for a big-screen Android smartphone. With push Gmail turned on, Twitter and Google+ updating in the background, some use of the browser and Google Maps over 3G, a couple of calls and some SMS messaging, the Xperia S was gasping for a recharge by late afternoon. More casual use could extend this out to a full day, but a nightly recharge is a must.
Wrap-Up
The Xperia S finds itself launching at a tricky time for Sony. The company is partway between developing its own phones, entirely separate from Sony Ericsson of old, and between the last gasps of the ill-fated partnership. That tumultuous cradle shows itself in the absence of Ice Cream Sandwich, increasingly an inexcusable omission from what's billed as a flagship. Sony certainly isn't the only culprit, but there's no shortage of vitriol to go round.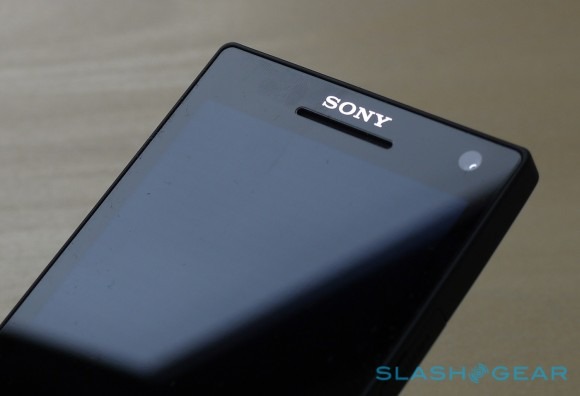 With Android 4.0, the Xperia S would've felt a far more rounded device. The hardware is distinctive and, for the most part, a success – the screen in particular is bright and pleasingly pixel-dense – and the Snapdragon processor, though short a few cores on other recent rivals, still keeps things churning at a satisfactory pace. It's software that leaves the Sony feeling old beyond its time.
Sony's commitment to pushing out ICS in Q2 is admirable, but they'll only get real credit when we see it arrive on handsets. For the moment, the Xperia S is a solid phone but not a stand-out one, and that doesn't bode well when HTC's One Series is imminent and Samsung's much-anticipated Galaxy S III is in the pipeline. In short, the first "true" Sony smartphone of 2012 is yet to arrive.