Sony Xperia Aquatech store requires SCUBA diving lessons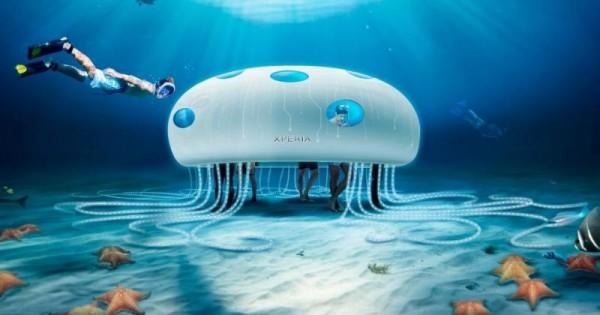 If you're marketing extremely waterproof devices, what would be the best way to get that point across? Well, why not put a store underwater! As if taking a page from Apple's glass retail store in New York, Sony put its concept store four meters under the sea in Dubai. Of course, you won't be getting there on your own and you'll to undergo diving lessons before you are accompanied by trained drivers to the store.
The other catch is that the store isn't actually open to the public. Only a lucky few have been chosen to experience this once in a lifetime opportunity, including contest winners, VIPs, and some media. And the store will actually be open for only three days, which makes you wonder about the expenses that Sony incurred for this marketing gimmick. And the concept store isn't even a store in a traditional sense, not like you can call an underwater store traditional. It's more like a huge jellyfish where a Sony sales rep walks you through the features of Sony's latest Xperia devices.
Almost quite ironically, even if you already owned an Xperia Z3 or one if its siblings, the highest waterproof rated smartphones Sony has at the moment, you will still need to encase them in a waterproof container. The Xperia Z3 family only boasts of an IP68 rating, which means it can only survive in the water up to 1.5 meters deep and for only 30 minutes. And that's fresh water, mind you. Not the salty sea water that can do a lot more damage to devices.
So on the one hand, you have a extremely short advertising strategy that doesn't directly match the Xperia Z3's own capabilities (sea water, 4 meters, 3 days). On the other hand, it might be quite effective at drumming up interest and hype around the devices, especially in the Middle East. Should Sony try to repeat this performance elsewhere or should they try to stick to more widely available and more entertaining video ads instead?