Sony Xperia 1 II borrows Alpha camera tech for the photographer's Android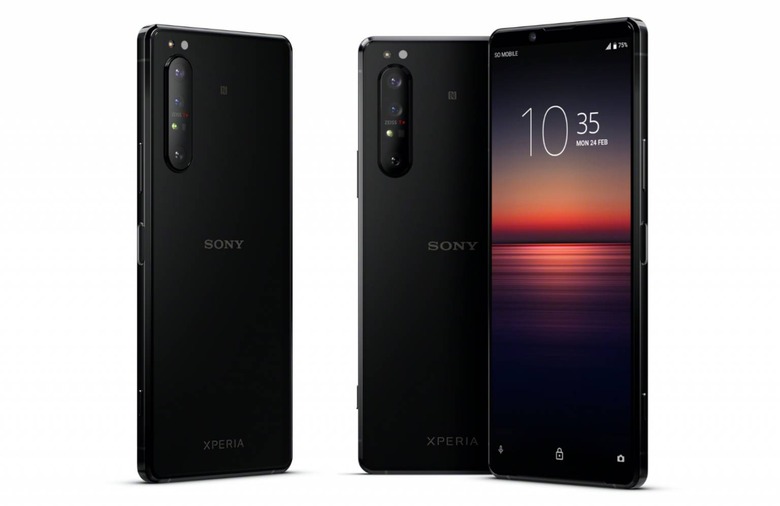 The Sony Xperia 1 II is a second take on the photography-first Android smartphone. Fresh on the heels of last year's unusually-shaped Xperia 1, this "Mark II" version takes a leaf out of Sony's camera business to try to gain an edge in 2020's fiendishly competitive phone segment. Along the way, it taps some of Sony's unique talents – and falls victim to some of the company's perennial missteps.
It's all about the camera
Perhaps sensibly, what with its interchangeable lens cameras having a more than solid reputation right now, the Xperia 1 II doubles down on its photography talents. On the rear there are four sensors: a 16mm 12-megapixel camera with an f/2.2 lens, a 70mm 12-megapixel f/2.4 3x zoom, and a 24mm 12-megapixel f/1.7, along with a 3D iToF. They're combined with Sony's Exmor RS for Mobile and BIONZ for Mobile, plus Zeiss optics. An 8-megapixel front camera lives up in the narrow bezel by the earpiece.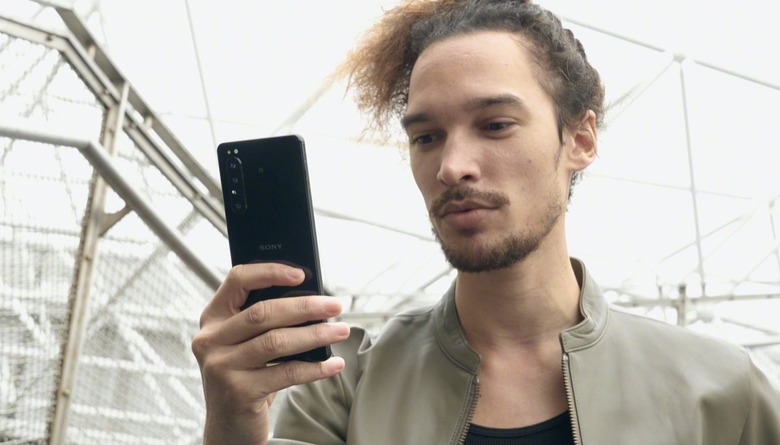 Sony's 16mm and 24mm cameras use a Dual Photo Diode (Dual-PD) sensor. There's on-sensor autofocus, too, covering approximately 70-percent of the sensor on the 24mm camera; Sony combines that with 3D time-of-flight, to improve autofocus performance. You also get Real-Time Eye AF, which can recognize both humans and pets. A tap switches between them.
As you'd expect, there's a standard camera app which delivers the basics in an easy-to-use way. Sony, however, has combined that with its new Photo Pro interface, effectively bringing a version of the Sony Alpha camera UI to the phone. That includes mode switches, more precise AF control, and other settings.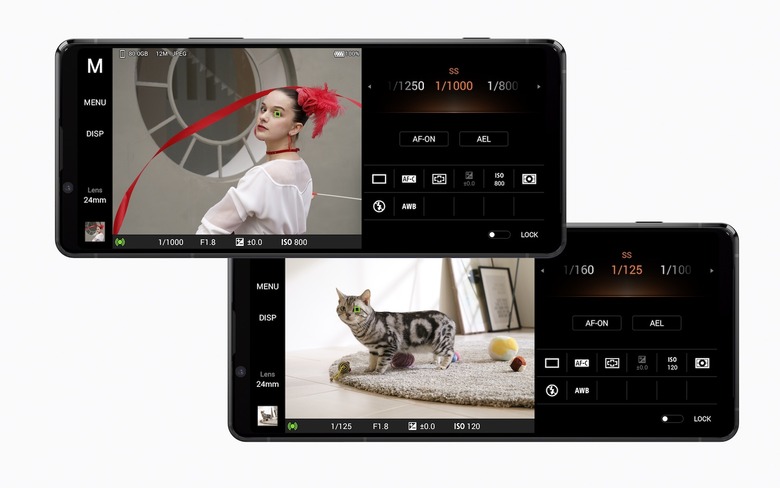 The talents are more than screen-deep, too. The Xperia 1 II borrows its camera cousin's burst mode, distilling tech from the Sony Alpha 9 to do things like a 20 fps burst mode (with the 23mm lens) with AF/AE tracking.
On the video side of things, you don't get 8K but Sony is counting on you not caring about its absence. Instead, the Xperia 1 II offers 4K 24/25/60 fps with HDR; the old Xperia 1 only offered 24p. Video gets Touch AF and manual white balance controls, along with an exposure meter. There's also an intelligent wind filter to more cleanly cut out background noise.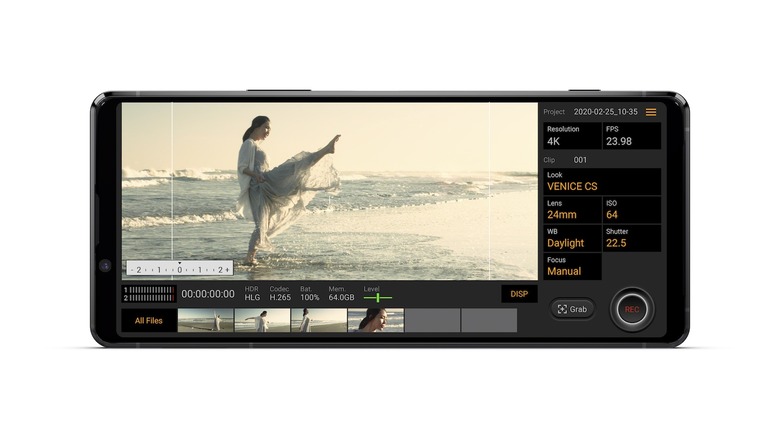 Alternatively, you can hook up an external microphone via the USB port. Sony is using H.265 encoding for its video files.
Big screen, fast chipset, and a headphone jack
Like the Xperia 1 before it, the Xperia 1 II uses Sony's current aspect-ratio-of-choice, a 21:9 CinemaWide OLED panel. It's still 6.5-inches and 4K HDR, but for 2020 Sony is adding white balance control to adjust color temperature. There's also a Creator Mode, powered by CineAlta, and a motion blur system that Sony says provides the equivalent of a 90Hz refresh rate.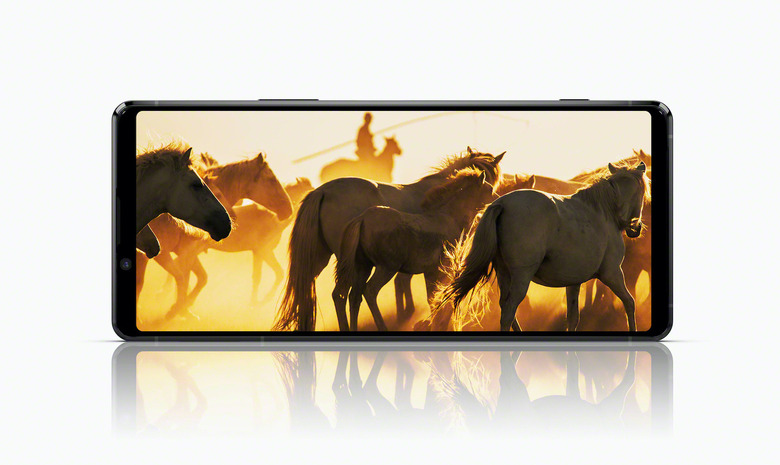 Unsurprisingly that all requires a beefy processor, and so Qualcomm's Snapdragon 865 is parachuted in to play. Sony pairs it with 8GB of memory and 256GB of storage. As for power, there's a 4,000 mAh battery with wireless charging support.
A welcome reintroduction is the 3.5mm headphone jack. Sony says that was a big request from Xperia 1 owners, and it has combined it with stereo front speakers. There's Dolby Atmos, Hi-Res Audio, DSEE Ultimate, and hardware decoding for 360 Reality Audio too.
A tough case and a weird 5G decision
Sober and crisp are probably the best way to describe the Xperia 1 II aesthetic. Sony's phone measures in at 166 x 72 x 7.9 mm and 181 grams, a sandwich of Gorilla Glass 6 front and back. It's IP65 and IP68 rated for things like dust and water.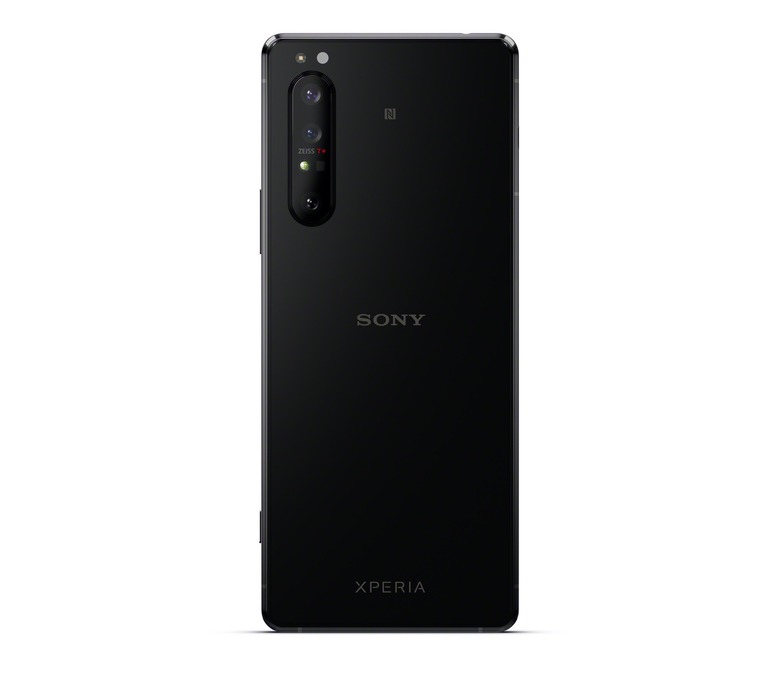 There's a fingerprint sensor on the side – integrated into a push-button – and a USB-C port on the bottom. The Xperia 1 II is compatible with Sony's DualShock 4 PlayStation controller, too.
In the US, the Xperia 1 II will top out at 4G LTE, with no 5G option. That, the company says, is a reflection of where the career market is in the US with 5G deployments. Outside of the country, though, there'll be 5G versions, though Sony hasn't said where or when, or indeed which carriers they'll be compatible with.
Can Sony be competitive in today's phone market?
Not offering 5G in the US this year is the least of Sony's worries. It's fair to say that the company is struggling to gain mindshare, never mind sales. The Xperia 1 won praise from some quarters for its photography talents and screen quality last year, but that doesn't necessarily translate into being a market success.
It's questionable whether the Xperia 1 II will escape the same fate. Sony isn't the only company to put extra emphasis on high-performance camera sensors in 2020, and rivals like the Samsung Galaxy S20 Ultra have the benefit of a vast marketing budget and no shortage of hype.
Sony Xperia 1 II pricing and availability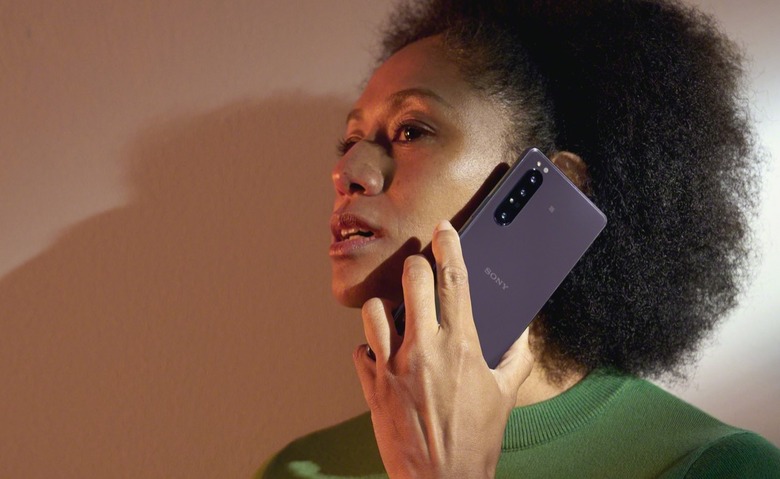 As was the case with the Xperia 1, you probably shouldn't bother going looking for the Xperia 1 II in carrier stores any time soon. Sony is pushing the phone unlocked and SIM-free, ready for the network of your choice.
Sony says it hasn't decided on a final price for the phone yet, but we're guessing it will drop the Xperia 1 II pretty much right in the fray of the Samsung Galaxy S20+ and the iPhone 11 Pro. Expect the Xperia 1 II to start shipping in the US later this year.