Sony XAV-AX100 car audio system supports CarPlay and Android Auto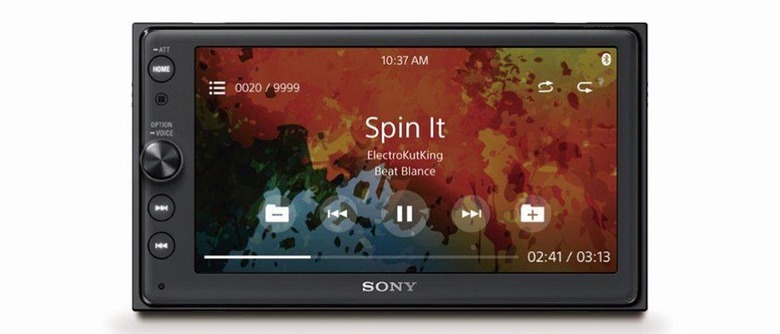 Sony has launched a new in-car receiver that brings any car the audio device will fit into compatibility with Apple CarPlay and Android Auto. The audio system is called the XAV-AX100 and brings lots of smartphone connectivity to your car. The AX100 has high-powered sound and ExtraBass technology and has a knob to adjust volume.
Knobs are better for controls like volume than touch sensors because you can adjust the volume without taking your eyes off the road. Apple CarPlay functionality allows the driver to use their smartphone to access apps like Maps and Apple Music. Users can also make phone calls and send messages via the touchscreen on the audio system or using Siri.
Android Auto functionality lets drivers control music, maps, and other features via the touchscreen on the AX100. Sony uses 55W x 4 Dynamic Reality Amp 2 and Extra Bass technology to overcome engine noise and produce clear sound at any volume level while delivering punchy bass.
Sony integrates 3-pre out connectivity to expand the system to work with external amps and supports a wide range of speaker connections. Sony also integrates Dynamic Stage Organizer tech to help overcome the acoustic disadvantage of front-door mounted, full range speakers that can sound muddy or unclear. DSO tech adjusts the signal to create the illusion of dash-mounted virtual speakers. The audio system appears to be a double DIN size and will launch in late November in North America. The XAV-AX100 audio system will retail for $499.99.
SOURCE: Sony