Sony VAIO W: mainstream 10-inch netbook, typical Sony price [Updated]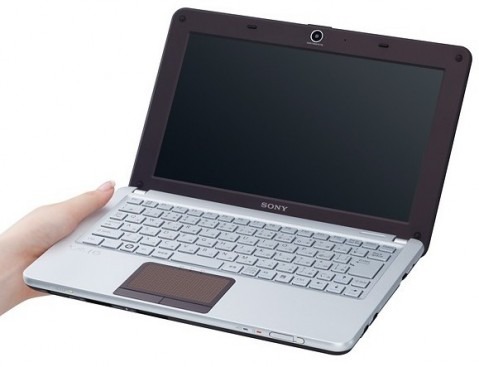 Sony's VAIO P was never the netbook many people expected it to be – its unusual screen aspect, stand-out form-factor and high sticker price meant it never quite competed with the regular Atom N270 netbook crowd – so the company is back with a far more mainstream alternative.  The Sony VAIO W is an "internet book" with a 10.1-inch screen and Intel's typical N270 1.6GHz processor.Update: It's official for the US; more details after the cutVideo demo after the cut
The display runs at the slightly-unusual-for-a-netbook 1366 x 768 resolution, while other specs include 1GB of RAM, a 160GB hard-drive, integrated WiFi and Bluetooth, and GMA950 graphics.  OS is Windows XP Home, and the battery is apparently good for up to 3.5hrs.
There are high hopes for the VAIO W's keyboard, which looks to be a chiclet transplant from elsewhere in the company's notebook range, and the 267.8 x 179.6 x 27.5 mm chassis is not exactly bursting with style but it's not too ugly either.  The Sony VAIO W will apparently launch in Japan on August 8th (in white; August 22nd in Pink) priced at around 60,000 yen ($629).
Update: Sony USA have also announced the VAIO W (press release below).  It'll land in August, priced "for about $500".
Press Release:
SONY DEBUTS HOT NEW MINI NOTEBOOK IN COOL NEW COLORS

VAIO W Series Ideal for Casual Computing and Staying Connected

SAN DIEGO, July 7, 2009 – Sony today took the wraps off its chic new line of mini notebooks- the VAIO® W Series.

Featuring an ultra-portable design, the W Series is perfect for using as a secondary PC, in any room of the house, for surfing the web, checking e-mail, and social networking.

The W model comes in three vibrant colors- berry pink, sugar white and cocoa brown. A more subtle shade of the exterior hue finishes the inside of the PC while the touchpad is lined with a splash of brightness.

"The W Series lets you quickly look something up online whether searching for a recipe in the kitchen or relaxing on your recliner- there's no need to trudge upstairs to your office," said Mike Abary, senior vice president of the VAIO business group at Sony. "And it's sturdy enough for the kids to use, making it perfect for every member of the family."

The W Series incorporates a high-resolution, 1366 x 768, LED backlit 10.1-inch (measured diagonally) ultra-wide display, making it easy to view two full web pages- no side-to-side scrolling necessary.

The model features an isolated keyboard with springy and responsive keys making it comfortable and easy to use. Its carefully designed touchpad and mouse keys make the PC functional and mouse movements easy to control.

The W Series unit is ENERGY STAR® 5.0 compliant, EPEAT Gold registered and incorporates eco-conscious features such as a mercury-free LED backlit LCD. Its corrugated cardboard packaging is comprised of 95 percent recycled content. Sony will also help recycle your old PC (www.sony.com/green; recycling fees may apply).

The model comes with VAIO Media plus Multimedia Streaming software, a media sharing application that lets you wirelessly stream content across DLNA®-enabled devices throughout your home network. Stream video, music and pictures from your W Series to your compatible primary PC or PLAYSTATION®3 and vice-versa and enjoy your content anywhere in the home including on your big-screen TV.

Easily transfer data, such as photos from your digital camera or music from an MP3 player, to and from the PC with the unit's two convenient USB ports. Incorporated Bluetooth® technology enables peripherals such as a wireless mouse to be utilized without tying up the unit's ports. A built-in webcam and microphone let you video chat with family, friends and colleagues. A third-party internet service provider is required.

A roomy 160GB hard drive has been included providing ample storage for all your photos, files and videos. It comes pre-installed with Microsoft® Windows® XP Home Edition operating system.

The VAIO W Series mini notebook will retail for about $500. It is available for pre-orders today online at www.sonystyle.com/pr/w. It will also be sold at Sony Style® stores and at other major retailers around the country starting next month.
[via GadgetMix]