Sony VAIO W goes pink for a good cause, brings Reader Pocket Edition along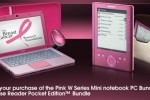 With the glut of pink products being offered this month, it's hard to miss the fact that Breast Cancer Awareness month is upon us again. It's nice to see manufacturers supporting breast cancer research and if you are looking for pink and geeky gifts for the holiday season, this is the time to buy. Sony has announced its pink gear to promote awareness.
The pink products include a special pink VAIO W Series Mini Notebook bundle. The bundle includes a pink mouse, pink case for the netbook, and a two-tone pink netbook. Under the pink skin, the netbook is the same VAIO W we have already seen.
The netbook has a 10.1-inch screen, N270 CPU, 1GB of RAM, and 160GB of storage. If a netbook isn't you thing, Sony is also offering its Reader Pocket Edition in rose, otherwise known as pink, as well. Sony reports that it will donate $110,000 to breast cancer research from the proceeds of the research.