Sony VAIO S-Series and F-Series bring Core i7 to ultraportables and gaming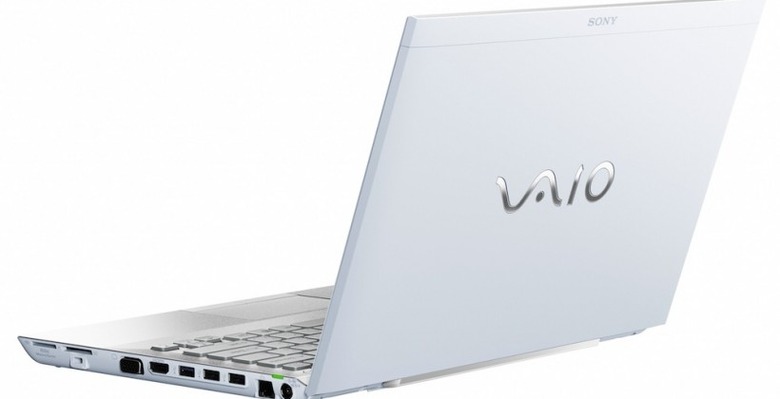 Sony is talking VAIO notebooks again this morning, and it looks like the company is flexing its obsession with power with an update to the VAIO S-Series. Packing a Core i7 processor – complete with Turbo Boost overclocking – along with an onboard DVD burner, optional SSD, optional AMD Radeon HD 6630 GPU and a 13.3-inch 1600 x 900 display, the bumped S-Series' main charm is the potential for up to 15hrs of runtime.
To achieve that, mind, you'll have to strap on the optional $150 "slice" battery. Without it, the S-Series is a waifish 0.95-inches thick and 3.8lbs, available in brown, black or silver. Options include a Blu-ray drive, while a backlit keyboard and Exmor-sensor equipped webcam are standard. It hits pre-order today, priced from $1,350.
Meanwhile, the new Sony VAIO F-Series gaming notebooks are also on order from today, with a 16.4-inch 1920 x 1080 Full HD display, quad-core Core i7 processor, a choice of NVIDIA GeForce GT 540M (1GB) or 520M (512MB) graphics and up to 750GB of storage. There's also a backlit keyboard, USB 3.0, an HD webcam and S-Force Front Surround 3D technology along with Dolby Home Theater v3 support. The F-Series kicks off from $1,100.
Press Release:
SONY BRINGS MORE POWER TO GO WITH NEW S SERIES LAPTOP

Optional Sheet Battery Doubles Battery Life Up to 15 Hours

SAN DIEGO, May 25, 2011 – Sony's newest S Series VAIO® laptop combines for the first time portability, performance and power in a thinner, lighter design perfect for everyone from students to business travelers.

The new S Series continues Sony's efforts to offer users more personalized options and flexibility that fits their lifestyle. Select S Series models sport elegant design in burnished brown, jet black or platinum silver with magnesium and aluminum materials, and incorporate a built-in lithium polymer battery that when coupled with the advanced large-capacity optional sheet battery, can stay mobile and unplugged for up to 15 hours with solid state drive configurations. Intelligent charging enables you to charge the optional sheet battery separately and attach it to the system without shutting down for maximum flexibility.

"Users these days want a laptop that will last for hours without charging, is small and light enough to carry around with you but doesn't sacrifice any of the performance and power that you'd find in a full-sized PC," said Mike Lucas, senior vice president of Networked Technology and Services Division at Sony Electronics. "You can fly nonstop from Los Angeles to Tokyo or attend a full day of classes on just one charge with this S Series laptop when combined with the optional sheet battery."

This 13.3-inch S Series is packed with powerful performance—all in a thin 0.95-inch profile that only weighs 3.8-pounds with the standard battery. Incorporating all the mobility of VAIO laptops, this new model delivers impressive portability and performance with the available second generation Intel® Core™ i7 processor. Coupled with Hybrid Graphics as well as dual channel solid state drive options (select models), the S Series laptop is truly top of the line.

Ultra Mobility and Performance

Performance is top priority with the second generation Intel Core i7 processor that delivers even more performance automatically when you need it. With Intel Turbo Boost Technology 2.0, the processors increase speed automatically delivering the performance needed for multitasking.

AMD Radeon™ HD 6630 1GB Hybrid Graphics card (select models) with 1GB VRAM gives a premium visual quality and intense HD performance without placing huge demands on the CPU. Plus, it offers a performance boost to your day-to-day processor functions for a faster, more optimized overall computing experience.

For maximum performance and ample storage, select models feature dual channel solid state drive with RAID 0 technology.

The S Series laptop comes with one-touch VAIO, ASSIST and WEB buttons, for launching Media Gallery™ software, VAIO Care™ software and access to the web without full boot-up into Windows®, all with a touch of a button.

The new S Series models offer a built-in web camera powered by an Exmor™ sensor that allows for great low-light performance. With exceptional picture quality, the 13.3-inch (1600x900) widescreen display includes an LED backlit keyboard, illuminating the lettering for typing in low-light situations. And with the built-in microphone you can video message with family, friends and coworkers. Face tracking technology allows the camera to automatically adjust focus and follow you as you move around while video chatting.

Packed with Multimedia

Sony knows entertainment is always at the forefront and the VAIO S Series delivers. Whether you're watching a stunning Blu-ray Disc™ movie (select models) or enjoying video captured from your compatible camcorder. The versatile Blu-ray Disc drive on the VAIO S Series laptop (select models) combines the power of HD video playback with the convenience and utility of DVD and CD read/write functionalities. Providing the best picture and the best sound with stunning clarity, Blu-ray Disc technology is the ultimate way to enjoy your entertainment.

With Intel® Wireless Display 2.0, you can sit back and experience your favorite videos, photos and music on your TV. Stop crowding around a laptop screen and view and share content from your hard drive, home network or the internet wirelessly on your HDTV utilizing the adapter (sold separately; restrictions apply).

Pricing and Availability

The VAIO S Series laptops are available for pre-sale today at www.sonystyle.com/sseries starting at about $1,350, and the optional sheet battery at about $150.

Additionally, Sony added two new colors to its existing S Series line. The new pink and blue S Series models will available at www.sonystyle.com/sseries starting in June.
MEDIA ALERT:
ULTIMATE IN MOBILE MULTIMEDIA: SONY INTRODUCES THE NEW F SERIES LAPTOP

WHO:

Sony Electronics

WHAT:

New Sony® VAIO® F Series laptop:

Made for multimedia enthusiasts who want to game, watch movies or listen to music anywhere, anytime, Sony's new VAIO® F Series laptop is a multimedia entertainment powerhouse. This laptop packs the power and state-of-the-art performance of a full-sized PC into a portable design.

Multimedia Marvel

Experience Blu-ray Disc™ movies and games in stunning 1920x1080 Full HD 1080p on a 16.4-inch widescreen display

Enjoy cinematic sound with S-Force™ Front Surround 3D technologyand rich audio sound from Dolby® Home Theater® v3

Outstanding graphics performance and responsive game play with NVIDIA® GeForce® GT 540M (1GB) or 520M (512MB)

Type and chat in dim light with backlit keyboard and HD web camera powered by an Exmor™ sensor

Press VAIO button to enjoy your media in a whole new way with Media Gallery™ software

Connect your VAIO® PC to a PlayStation3® system and other Sony® connected devices with Remote Keyboard

A/V control buttons let you play, pause, stop and move from track to track with ease

Power and Performance

Quad Core Intel® Core™ i7 processor for visibly smart performance at its best

Genuine Windows® 7 Home Premium

USB 3.0 ports allow for speedy transfer to external devices

Up to 750GB HDD for extra-large capacity and storage

One touch web access without full boot up into Windows® with WEB button

Maintain and troubleshoot PC issues with VAIO Care™ software, just push ASSIST

WHEN:

Available May 25, 2011 for pre-sale at www.sonystyle.com/fseries and at select retailers around the country for about $1100. The new F Series comes in silver, matte black or a premium white Signature Collection model. Images are available at www.sony.com/news.