Sony unveils VAIO Duo 13 hybrid laptop with slider keyboard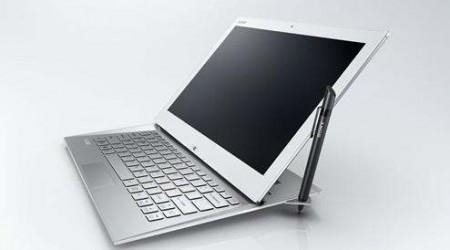 Sony has unveiled a couple new laptops this evening, among them being a new slider hybrid called the VAIO Duo 13. This laptop uses Sony's Surf Slider design to switch from a slate into a laptop with a slider keyboard complete with a trackpad. Thus far Sony has only said the hybrid will be available sometime in the middle of this month, rolling out worldwide for a yet-unspecified price.
The VAIO Duo 13 has a TRILUMINOS Display for mobile, which is Sony's display technology for producing accurate, saturated colors. In addition, it also features Sony's X-Reality technology, which analyzes media content and creates pixels that are missing, increasing quality by enhancing aspects of the content you might not otherwise notice was lacking, such as a pattern. Moving on from that, there's also ClearAudio+, Sony's audio technology.
As for some slate-specific features, there's a rear 8-megapixel camera with an Exmor RS for PC Sony sensor, which was used specifically for the clear images it takes. Those images can be used in conjunction with the CamScanner app for turning pictures of documents into scanned documents, with the software including support for actions like angle adjustments and straightening.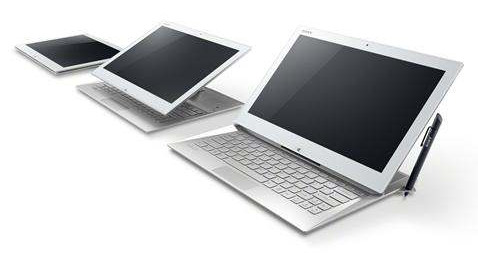 Because the slate serves specific purposes aside from simple tapping and swiping, the VAIO Duo 13 uses an OptiContrast panel, which is sensitive enough for activities such as writing and drawing. Both can be achieved using the digitizer stylus that is included with the hybrid laptop, and notes can be taken with the accompanying Note Anytime for VAIO app.
To keep apps, emails, and other regular digital content updated, the VAIO Duo 13 maintains an Internet connection while in Sleep mode, enabling software updates and such. Concerns about what this feature does to battery life are valid, buy Sony promises the hybrid has longer battery life than other Ultrabooks, coming in at somewhere around 15 hours. The device can be roused from Sleep mode in "less than one second."
SOURCE: Sony