Sony unveils new summer line of VAIO PCs [Updated with US pricing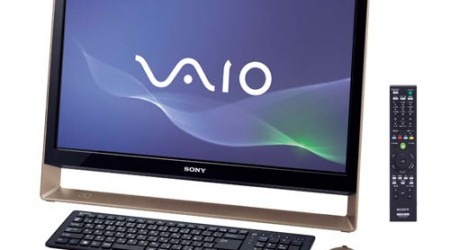 Sony has announced some new VAIO PCs that will land in Japan this summer starting in June. The machines will fit into the VAIO L, VAIO J, and VAIO F lines. The L-series are AIO machines that come in versions with and without digital TV tuners built-in. The VPCL139FJ/T is what you see pictured below and it has a 24-inch full HD touchscreen AIO machine with dual digital tuners, dual AVC Transcoding, and a Blu-ray drive. It will sell for 245,000 yen and a version lacking the touchscreen is 215,000 yen.
The J-series is a line of 21.5-inch AIO machines with dual digital tuners and dual AVC Transcoding in the two high-end models, which also feature Blu-ray drives. The 220,000 yen high-end model has a touchscreen while a 200,000 yen version lacks touch. A cheaper 160,000 yen version uses a DVD drive and dual terrestrial tuners.
The F-series notebooks range from 255,000 to 175,000 yen and all have 16.4-inch screens. The high-end version has dual digital tuners, dual AVC, BD drive and more. The next step down has dual terrestrial tuners, dual AVC transcoder, and a BD drive for 195,000 yen and will land on June 26. The low-end version has dual digital terrestrial tuners and a DVD drive for 175,000 yen.
Update: Sony USA have been in touch to confirm US pricing and availability.  It looks like only the J-Series will get a US release, priced from $900 and available for preorder now.  However there are also two new E-Series notebooks, which start at $700 and are also available for preorder now.
The 14-inch Sony VAIO EA and 17.3-inch EC join the EB 15.5-inch model, coming in five translucent, high-gloss colors— Caribbean Green, Iridescent Blue, Coconut White, Hibiscus Pink and Lava Black— and three matte colors—Maple Brown, Silver White and Gunmetal Black.
Press Release:
VAIO J All-In-One Puts Music, Photos and Blu-ray Disc Movies One-Touch Away

SAN DIEGO, June 8, 2010 – Sony today unveiled its new, affordable touch-enabled, multi-media machine— the VAIO® J Touch All-In-One PC.

With the VAIO J Series' multi-touch screen, easy access to your PC, HD movies— your entire entertainment hub— is readily at your fingertips.

Equipped with a 21.5-inch (diagonal) 1920x1080 widescreen panel, the unit displays high-definition content in Full HD. Select models feature a Blu-ray Disc™ optical drive so you can enjoy movies in stunning 1080p high definition.

"The J Series changes the way consumers interact with their PC enabling them to tap, drag, zoom, rotate and engage with their content and entertainment like never before," said Mike Lucas, senior vice president of the VAIO business at Sony. "And with its attractive price point, this cutting-edge technology will reach a whole new audience."

The J Series comes with three unique hardware buttons—VAIO, ASSIST and DISPLAY OFF to get you to where you want to go with a touch of a button.

Launch directly into Sony's own Media Gallery software by pushing the designated VAIO button and simplify your music library. With Media Gallery you can automatically create 21 unique channels of music based on beat, tone, rhythm and other elements. It also enables you to rediscover forgotten favorites by recommending content you already own based on your unique listening and viewing habits.

Facilitate simple do-it-yourself PC maintenance procedures by pressing the ASSIST button and launching the included VAIO Care™ software program. Finally a DISPLAY OFF button is included so you can turn off your screen for privacy or to perform nighttime applications without sending your PC into hibernation.

By utilizing built-in wireless 802.11 b/g/n Wi-Fi technology and your wireless router (required, sold separately), you can position the model virtually anywhere in your home and access the Internet, email or home network.

A built-in webcam with face-tracking technology and microphone let you video chat with colleagues. Included Webcam Message Board software makes it easy to create video messages or leave handwritten notes on the screen. A third-party internet service provider is required.

The unit packs a powerful 2010 Intel® Core™ processor (select models), loads of RAM, and an optional dedicated NVIDIA® GeForce ® series graphics for graphic-intense gaming and movies. It comes with Windows® 7 Home Premium or Professional 64-bit operating system.

Featuring a stylish, compact design the PC comes with an adjustable stand to help you adjust it to meet your desired viewing or touch angle or simply to decrease the slant for space-saving. A wireless keyboard and mouse that can easily be stored under the unit's display are included.

The VAIO® J Touch All-in-one PC will start at about $900. It is available for pre-orders today online at www.sonystyle.com/pr/jseries. It will also be sold at Sony Style® stores and select retailers around the country starting next month.