Sony Teams Up With Best Buy to Provide Altus Wireless Speakers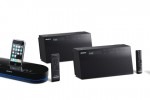 Sony announced today a joint-venture with mega-retailer Best Buy, showcasing a new line of streaming audio products, affectionately called "Altus." There's four products being released out of the gate, and Best Buy is getting the first crack at them. Of course, this makes sense considering Best Buy lended a helping hand in their development. There's quite a bit to go on, so we'll just get right down to it.
The Sony SA31iR is a multi-room system that also comes with an iPod/iPhone dock and two wireless speakers, which thankfully means you can take your listening pleasure to separate rooms. Each component actually has a built-in FM radio as well, which only adds to the listening experience. And if that wasn't enough, the SA31iR comes with a remote control with an LCD that displays the iPod/iPhone song information like artist, song title, album and what not. The SA31iR will retail for $700.
The Sony ALT-SA32PC is a system that transmits audio wirelessly from a PC, but requires a USB-dongle to plug into the main wireless base. This system comes with two wireless speakers, just in case you don't want to sit in front of your PC anymore but keep your tunes nearby, and will retail for $500.
The Sony ALT-SA33PC is a model that resembles the previous, SA32PC, in that it requires a PC connection via a USB dongle which connects to a wireless receiver. However, the receiver does not have any built-in speakers, so it must be plugged into separate amps or boom box.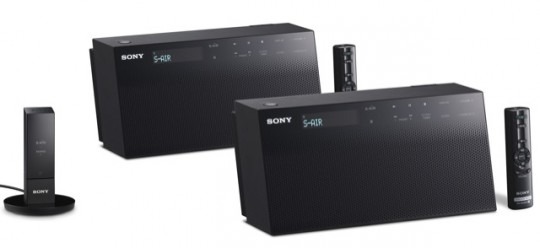 The Sony ALT-SA34R is called the "Socket Speaker Package," and is an S-Air-enabled set of enabled speakers. Like the SA31ir, it inclues a wireless remote which comes with an LCD viewscreen. All of this can be grabbed up for $350.
Sony is stepping up their game with their S-Air wireless technologies, which all of the aforementioned devices utilize, so that they can be mixed and matched as you see fit. Of course, if you have any older models that are S-Air enabled, they will function with these new toys as well. So, if you've got some extra money to toss around, and want to have some more wireless goodness, here's what you're looking for.
Press Release:
SONY AND BEST BUY COMBINE FORCES TO DELIVER

NEW LINE OF AUDIO PRODUCTS

New "ALTUS" Product Line Brings Wireless, Multi-Room Audio Freedom to the Home

NEW YORK, Aug. 18, 2009 – Representing nearly two years of cooperation in market research and engineering efforts, Sony Electronics Inc. and Best Buy Co., Inc. today announced the new "ALTUS" audio product line.

Featuring a stylish assortment of wireless music systems, speakers, and home theater products, the ALTUS line offers a variety of simple, easy, and effective solutions for experiencing premium audio throughout the home.

"The ALTUS line is something that both Sony and Best Buy can be proud to call their own" said Mike Fasulo, executive vice president, chief marketing officer and corporate social responsibility officer of Sony Electronics Inc. "We're breaking new ground in the consumer electronics industry with this unique cooperation between manufacturer and retailer."

Mike Vitelli, executive vice president of customer operating groups at Best Buy Co., Inc., added: "By working with Sony throughout the product development process, we were able to focus directly on our customer to better understand their needs and interpret how best to present ALTUS in a retail environment."

Expand your iPod from Room to Room

Heading up the ALTUS product lineup are two iPod™ docking systems designed to enhance and expand your home listening experience.

The premium ALT-SA31iR multi-room iPod package features three separate components: an iPod/iPhone® docking station and two high-output wireless speakers.

This multi-room package also features an AM/FM tuner and S-AIR remote control with an LCD display. On the display, users are able to see all metadata of the streaming audio, including album, artist, and track information. Further, the ALT-SA31iR system can be used to transmit audio to all other S-AIR compatible receivers.

Sony's AIR-SW10Ti iPod dock consists of a compact docking station with two built-in speakers and a wireless subwoofer that can be easily concealed. This powerful new model has a maximum output of 60 watts RMS and includes both an infrared remote control and FM tuner capabilities. The AIR-SW10Ti system can also be used to transmit wireless audio to compatible ALTUS and S-AIR products. The ALT-SA31iR system will retail for approximately $700 and the AIR-SA10Ti model will retail for about $400. Each unit is available today for pre-sale on HYPERLINK "http://www.sonystyle.com" www.sonystyle.com and will be available in September at Best Buy locations nationwide, along with other select retailer partners.

Wireless PC Audio

Recognizing the importance that the computer holds to any digital music collection, Sony is also introducing two PC audio multi-room packages as part of the ALTUS brand.

The new ALT-SA32PC multi-room audio package features three components: an S-AIR transmitter that connects to your PC (via USB input) and two high-output wireless speakers. The USB transmitter streams audio wirelessly from the connected PC to the two included speakers for a simple multi-room solution.

The ALT-A33PC package has an identical USB S-AIR transmitter, but includes a universal receiver that can connect to a variety of audio products with its RCA outputs. This enables users to stream music wirelessly from their computer to most existing music systems.

Both packages include unique music management software that has the ability to tap into existing playlists on your computer in programs like iTunes™ and Windows Media Player™. Additionally, this software facilitates the creation of new music "channels" using the digital music library of a connected PC. Each of these two PC systems is compatible with the entire ALTUS family of products as well as all of Sony's S-AIR accessories.

The ALT-SA32PC package will sell for approximately $500 and the ALT-A33PC for about $200. Each can be pre-ordered today on HYPERLINK "http://www.sonystyle.com" www.sonystyle.com and will be available September in Best Buy locations nationwide, along with other select retailer partners.

Plug and Play Speakers

For those looking to expand their ALTUS audio system with small, compact and stylish speakers, Sony is introducing the sleek ALT-SA34R Socket Speaker Package.

This ALTUS product is compatible with all S-AIR enabled transmitters and features two small, unobtrusive S-AIR wireless speakers that plug directly into any power outlet in the home. The speaker system also includes an S-AIR remote control highlighted by an LCD display for viewing music metadata.

The ALT-SA34R Socket Speaker Package will retail for about $350 and is available for pre-sale today on HYPERLINK "http://www.sonystyle.com" www.sonystyle.com. Next month, the package will hit Best Buy stores nationwide, along with other select retailers, for about $350.

Blu-ray Disc Power

Also included as part of the new ALTUS lineup is Sony's BDV-E500W 5.1 Channel Blu-ray Disc™ Home Theater System, announced earlier this spring.

The BDV-E500W Blu-ray Disc home theater system features both wireless rear speakers and wireless multi-room audio capability. With the addition of compatible ALTUS or S-AIR devices (sold separately), audio from the BDV-E500W system can be expanded in up to 10 additional rooms throughout the home.

This Blu-ray Disc system is also BD-Live capable via a rear Ethernet connection. BD-Live allows users to access content including additional scenes, short subjects, trailers, interactive games and more. It also enables easy firmware updates to assist in keeping the player up-to-date with the latest Blu-ray Disc media and features.

The unit also supports the latest advanced audio codecs, including Dolby® TrueHD and Dolby Digital Plus, DTS®-HD High Resolution Audio, and DTS-HD Master Audio decoding as well as bit-stream.

Sony's Digital Media Port, included on the BDV-E500W, allows for easy connection to the included iPod cradle and the ability to connect other portable music players (optional cradles sold separately). The model also features Precision Cinema Upscaling technology for outstanding picture quality, and Sony's Xross Media Bar (XMB™) graphic user interface for easy menu navigation and operation.

The BDV-E500W is currently available at Sony Style stores, Best Buy and other authorized retailers for approximately $800.