Sony Tablet P heading to AT&T with 4G on March 4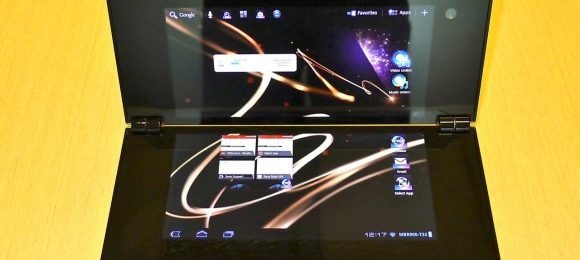 Sony has announced the arrival date for its unusual dual-screen Tablet P, a small Android tablet with a clamshell form factor first unveiled in the fall of last year. We played around with the tablet back in August and have known that it would be heading to AT&T with 4G HSPA+ connectivity, but have heard little about the tablet since except for its UK launch. And now, Sony's finally ready to bring it over to the states, starting March 4.
The Sony Tablet P features a folding design with two 5.5-inch displays that can either combine as one larger display or function separately. For instance, you may be able to check email on one screen while you use the keyboard on the other screen. Therefore, Sony has its own interface running on top of Android 3.2 Honeycomb.
The tablet uses an NVIDIA 1GHz Tegra 2 dual-core processor, 1GB of RAM, and 4GB of onboard storage expandable with microSD. It also has a 0.3-megapixel front-facing camera, a 5-megapixel rear-facing camera, microUSB, and Bluetooth. Battery life is rated for up to 7 hours. For more details, make sure to check out our hands-on.
AT&T will be selling the Tablet P at $399.99 with a new two-year service agreement. There are two post-paid data plan options for the device, which include the DataConnect 3GB plan for $35 per month, or a 5GB plan for $50 per month.
The device will cost $549.99 if you opt for AT&T's prepaid plans that do not require a contract. These plans include DataConnect 250MB for $14.99, 3GB for $30, and 5GB for $50.
[via MarketWatch]