Sony Sues Geohot and fail0verflow Team for PlayStation 3 Jailbreak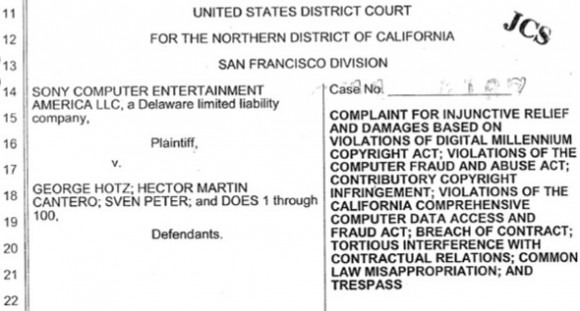 Geohot and the rest of the fail0verflow team are getting a lot of attention from Sony, all of which is focused around the group's creation of a PlayStation 3 jailbreaking utility. George Hotz (Geohot), Sven Peter, Hector Martin Cantero, and the rest of the team behind the jailbreak are now officially being sued by Sony. A step that seemed obvious after the company's movement to acquire a restraining order, to prevent people from obtaining the utility.
The group are facing several counts. Of which, Sony is saying these individuals are guilt of violating the federal Computer Fraud and Abuse Act, which forbids accessing computers without authorization. The suit also includes violating §1201 of the Digital Millennium Copyright Act, which forbids bypassing access control measures. Sony also says that the group is guilty of contributing to the copyright infringement by sharing the jailbreak to others, and helping them crack the videogame system.
Other violations include: Violating the California Computer Crime Law, which is the state computer fraud act. Trespassing on Sony's ownership right to the PS3. Interfering with Sony's relationships with other PSN customers. Violating the PlayStation Network's Terms of Service. And finally, misappropriating Sony's intellectual property.
Sony is focusing their efforts in preventing Geohot and the fail0verflow team from passing out the jailbreak any longer, by asking the court to forbid it. Sony also wants all of the hardware and software used in creating the jailbreak code to be handed over.
[via Engadget]