Sony STR-DN1010 3D Compatible A/V Receiver Outed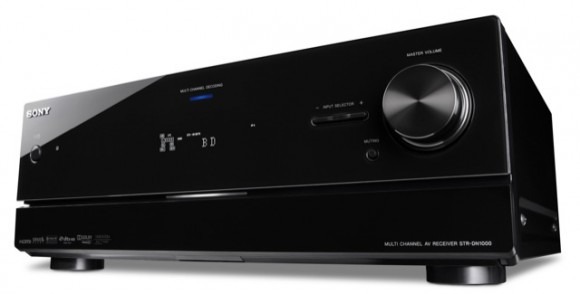 Sony have announced their first 3D compatible A/V receiver, the STR-DN1010, and it's a pretty impressive beast.  The DN1010 is a full 7.1-channel amp, with 110 watts power per channel (@8-Ohms, 1kHz, 1% THD) and a full seven HD-capable inputs (four HDMI, three component) with 1080/24p support.  Plug in a 3D-capable input and a 3D-capable display, and the DN1010 will happily pass through the video signal while crunching the soundtrack.
There's also upscaling to 1080p via HDMI and wireless second-zone media playback using Sony's own S-AIR technology.  You'll need to provide your own transmitter and wireless receivers, though, which seems a bit cheap on Sony's part.  Meanwhile other accessories allow you to plug in your iPod, iPhone or other PMPs in and control them remotely.  The Sony STR-DN1010 will hit shelves in June 2010 for around $500.
In addition to the DN1010, Sony have also outed three other A/V receivers, the STR-DH810, STR-DH710 and STR-DH510.  The former two offer 7.1-channel surround sound (the DH510 has 5.1-channel) as well as Dolby TrueHD and dts-HD Master Audio like the DN1010 (the DH510 does Linear PCM only), and all three will go on sale in March for $400, $300 and $230 respectively.
(Image above is last-gen DN1000)
Press Release:
SONY INTRODUCES ITS FIRST 3D COMPATIBLE AUDIO/VIDEO RECEIVER

Three Powerful Models with Expanded Connectivity Also Join Line-up

SAN DIEGO, Feb. 18, 2010 – Sony today announced its first A/V receiver capable of supporting 3D audio and video.

Featuring HDMI™ 1.4 3D pass-through technology, ample high definition connectivity and compatibility with all of the latest Blu-ray Disc™ audio formats, the new STR-DN1010 A/V receiver is designed to create a simple solution for controlling any high definition or 3D capable home theater.

"It's important for consumers to understand the role that audio plays in the in-home 3D experience," said Neal Manowitz, director of Sony's Home Audio and Video division. "By streamlining connectivity and supporting 3D hardware and software, the STR-DN1010 receiver will provide a simplified approach to 3D home theater control and performance, ensuring the best possible user experience."

The 7.1 channel STR-DN1010 A/V receiver (110 watts power per channel @8-Ohms, 1kHz, 1% THD) features full high definition 1080/24p support and seven HD inputs in total (four HDMI and three component) allowing for connection to a wide variety of HD devices. The receiver's HDMI 3D pass-through technology supports 3D video from connected devices and passes them through to a 3D compatible high definition television, while decoding high-resolution audio codecs.

The receiver also features an icon-driven menu system for simple device and content navigation and has the ability to upscale analog video sources to 1080p resolution via HDMI. The model also boasts a sleek piano black gloss design that matches Sony's line of Blu-ray Disc players and televisions.

The STR-DN1010 is compatible with all advanced audio codecs, including Dolby® TrueHD, dts®-HD Master Audio and features wireless 2nd zone capabilities through Sony's S-AIR® wireless technology. With the addition of an S-AIR transmitter (model EZW-T100) and separate S-AIR speakers (sold separately), the receiver can also drive wireless audio in up to 10 additional rooms.

The STR-DN1010 A/V receiver also features a Digital Media Port (DMP) input for simple connection to external sources including an iPod® and iPhone® (compatible DMP accessories required and sold separately) and is compatible with both Deep Color™ and x.v.Color™.

The STR-DN1010 A/V receiver will be available this June for about $500.

Sony also introduced the new STR-DH810, STR-DH710 and STR-DH510 A/V receiver models to its core line-up. Specifications are as follows:

STR-DH810 A/V Receiver

Available in March for about $400

· 7.1 channel (110 watts power per channel @8-Ohms, 1 kHz, 1% THD)

· Seven HD connections (4 HDMI / 3 component)

· Upscales incoming analog video signals to 1080p

· 2nd Zone wireless audio (S-AIR ready)

· Compatible with Dolby TrueHD, dts-HD Master Audio

· Fully assignable audio and video inputs

· Audio Return Channel using just one cable for TV audio

· Stand by pass-through of Audio & Video via HDMI connected devices

· Universal Remote

STR-DH710 A/V Receiver

Available in March for about $300

· 7.1 channel (105 watts power per channel @8-Ohms, 1 kHz, 1% THD)

· Six HD connections (3 HDMI / 3 component)

· 2nd Zone wireless audio (S-AIR ready)

· Compatible with Dolby TrueHD, dts-HD Master Audio

· Fully assignable inputs allows for use of all connections

· Audio Return Channel using just one cable for TV audio

· Stand by pass-through of Audio & Video via HDMI connected devices

STR-DH510 A/V Receiver

Available in March for about $230

· 5.1 channel (100 watts power per channel @8-Ohms, 1 kHz, 1% THD)

· Five HD connections (3 HDMI / 2 component)

· HDMI Repeater for simplified audio and video signal management

· Blu-ray Disc Audio Decoding (Linear PCM Only)

· Audio Return Channel using just one cable for TV audio

· Stand by pass-through of Audio & Video via HDMI connected devices