Sony SLDR A900 has the highest in-camera write speed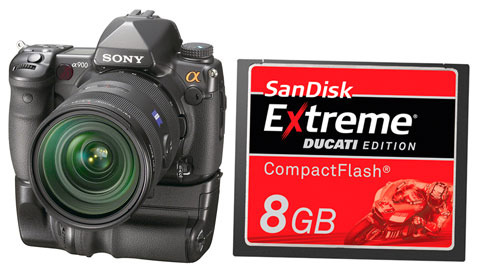 With the variety of flash-based media cards in the market, how could you tell which works the best on your high speed Digital camera? Does the lightening fast Sandisk Ducati or Extreme IV series CompactFlash warrant the premium price for your DSLR? Rob Galbraith has the answer for you; they've been testing in camera writing speed in both Jpeg and Raw format on numbers of popular Digital SLR for ages. Their latest updates are Nikon D90, Canon EOS 50D and Sony A900; and the latter tops 35MB/S write speed with Sandisk Ducati CompactFlash.
Thanks to the support of latest and fastest UDMA, we've seen a significant improvement in-camera write speed. Take the newly announced Canon 50D for example, it supports UDMA up to Mode 6 and is capable of writing at the rate of 33.72MB/S to an 8GB Sandisk Extreme Ducati (RG database). That's 3 times faster compare to its pre-successor 40D with the same CompactFlash. The improvement of in-camera write speed also free up the memory buffer, so you don't miss a shot while shooting in continue mode.
Always refer to RG's CF/SD performance database before you make the purchase; not all flash cards are created equal despite having the same rating, and not all DSLR works in harmony with the best card out there.