Sony Shows Off NXCAM HD Camcorder Concept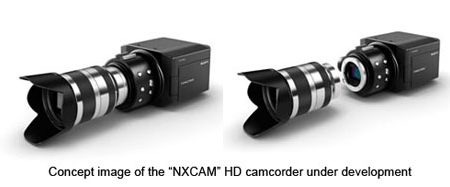 Interchangeable lens cameras have been around for a long time, but the concept of an interchangeable lens camcorder is relatively new. Sony has unveiled a new concept camcorder called the NXCAM HD that is still in development. The camcorder is expected to land in mid-2011.
The image you see here is a concept and the final product could look different. The concept is certainly boxy, but it is pretty cool looking. The camcorder will have a sensor that is equivalent to a Super-35mm sensor widely used in the film industry. The sensor will support cool features like the Bokeh effect.
The camcorder will have an E-mount interchangeable lens system that is the exact same lens system used by the Sony Alpha series NEX-5 camera and the Handycam NEX-VG10. The new camcorder will be for the pro market and will be able to use A-mount lenses with a mount adapter. The camcorder will support AVCHD with full 1080p resolution and will offer 60p/30p/24p or 50p/25p recording modes. Pricing is unknown at this time, but a pro level interchangeable lens camcorder will be far from cheap.