Sony Seeking Out Android Developers for Mobile Gaming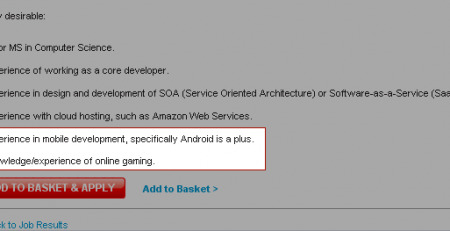 It's been just over a month since we heard anything about Sony and Android. Not since that big story about Sony Ericsson building some kind of monstrous PSP Go! like phone, featuring Android 3.0 and with a main focus on mobile gaming. And more than likely, this has everything to do with that. According to a new job posting for Sony, the company is currently looking for someone with past experience in mobile gaming, as well as mobile developing as it specifically deals with Android.
That previous story, about Sony Ericsson and Google working together to create something that most everyone would want, especially those saddened by the current state of Android-based gaming (even if it is getting better), made us immediately start looking forward to the future. And with Sony currently trying to improve and grow their internal mobile gaming development teams, it looks like this is a good time to start looking forward to whatever device they may be working on.
Or, this could mean that Sony's just planning on focusing on the Android platform, entirely on its own, with no plans to create any kind of hardware. If that's the case, then it could certainly be like other video game publishers, like EA, who have made a commitment to the Google created mobile Operating System. Either way, gaming on the Android platform looks like it's going to get a shot of adrenaline some time in the future, and that's only going to lead to good things.
[via Android Central]