Sony reveals a new Xperia X series, promised to be smarter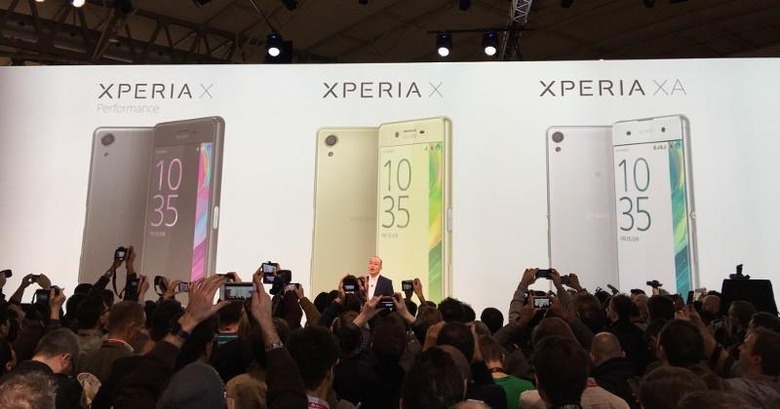 Sony is doing a bit of a re-imagining with its Xperia brand in an attempt to find a new calling in the saturated mobile market. That calling has come through a new "personalized and intelligent" slogan that is being realized, among other things, in a couple of new smart accessories, like the new Xperia Ear in-ear Bluetooth earbuds. That's not to say, however, that Sony doesn't have a new smartphone to go along with it. In fact, it has three! With the Xperia X, the Xperia X Performance, and the Xperia XA, Sony is promising a smartphone that is even smarter than your usual smartphone.
How does Sony make a smartphone smarter? In its case, the Japanese OEM has taken the two things that its devices are famous for and injects a bit of intelligence into them, namely, the camera and the battery life. Sony is introducing an all-new "Predictive Hybrid Autofocus", available in the Xperia X and Xperia X Peformance, a feature that was made in collaboration with Sony's alpha (α) camera engineers. This feature, in essence, predicts the motion of your chosen autofocus subject so that it can quickly shift the AF to where it's going.
The smartness in battery life comes via Sony's acquisition of Qnovo and its Adaptive Charging tech. Sony's smartphones are already known for their two-day battery promise, using STAMINA mode, of course. Adaptive Charging attempts to stretch that even further through even smarter battery management, ensuring that the battery gets just the right amount of charge to prolong its overall life.
The Xperia X can be considered as the base configuration for Sony's three new smartphones, with the Xperia X Performance above it and the Xperia XA below it. The Xperia X features a 5.0-inch screen with Full HD resolution and runs on a Qualcomm Snapdragon 650. There's 3 GB of RAM inside and 32 or 64 GB of storage, depending on single or dual SIM configuratin, respectively. That is still expandable up to 200 GB even. The cameras are quite formidable. The main one has a 23 meagpixel 1/2.3-inch Exmos RS sensor with said Predictive Hybrid AF, 5x Clear Image Zoom, and a 24mm wide angle F2.0 G lens. Even the front camera is competitive, with a 13 megapixel 1/3-inch sensor and a 22mm wide angle F2.0 lens. All of this is powered by a 2,620 mAh battery.
The Xperia X Performance takes things up a notch by swapping out the Snapdragon 650 with the latest Snapdragon 820. Much of the specs remain the same, though the X Performance variant is slightly larger. That gives it a bit more room for an also slightly larger 2,700 mAh battery.
The Xperia XA, on the other hand, is seemingly the mid-range option of the three. It is powered not by a Qualcomm Snapdragon but by a MediaTek MT6755. There is only 2 GB of RAM and a fixed 16 GB of internal storage. The cameras have likewise been downgraded a bit, with the main one sporting a 13 megapixel 1/3-inch Exmor RS sensor while the front gets an 8 megapixel shooter. The 2,300 mAh battery is still promised to last two days. And while the 5-inch HD display may sound like a downgrade, it makes up for it in terms of looks, stretching the full width of the smartphone and making bezels near invisible.
All three sport a design that Sony promises fits comfortably in the palm of your hand. That is mostly thanks to the choice of materials, the display's curved glass edges, and the rounded edges of the frame itself. This is part of Sony's push to unify its designs and, indeed, the three are almost indistinguishable from each other except for size and, in the case of the Xperia XA, the edge-to-edge display. All run the latest Android "M" Marshmallow out of the box.
Sony has yet to disclose availability details beyond a summer 2016 launch. All three will have color option of White, Graphite Black, Lime Gold, and Rose Gold.