Sony Reader Daily Edition up for pre-order at $400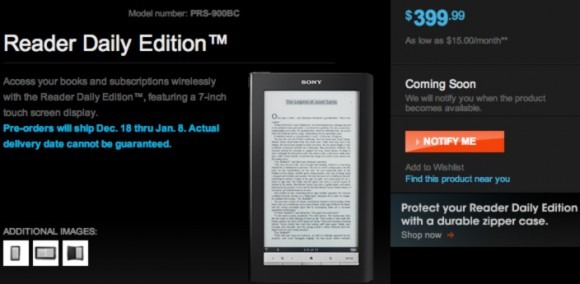 We've got to admit, having played with the mirasol ebook prototype earlier today, Sony's pre-sale of their Reader Daily Edition is looking marginally less appealing.  Priced at $399.99, the Sony Reader Daily Edition has a 7-inch monochrome e-ink display, integrated 3G connectivity, and weighs 12.75oz; wireless access to Sony's ebook store is included in the sticker price.
As well as content from Sony's ebook store, the Reader Daily Edition will also play nicely with PDF, Word, BBeB, ePub and other text formats.  You can highlight blocks of text and add notes with the included stylus, or use the on-screen keyboard if your handwriting is illegible, and there's an onboard dictionary for checking up confusing words.
Battery life is rated at up to 2.5 weeks from a single charge, though you'll only see that sort of longevity if the wireless is shut off.  Switch it on and you're looking at more like a week's worth of use.  Actual deliveries are expected to arrive sometime between December 18th and January 8th, which is a pretty large window if you're considering giving the Sony Reader Daily Edition as a holiday gift.
Press Release:
SONY READER DAILY EDITION NOW AVAILABLE FOR PRE-SALE AT SONYSTYLE.COM

SAN DIEGO – November 18, 2009 Delivering on its promise to give consumers a variety of choices, Sony today announced its newest addition to the Sony Reader Family — the Reader Daily Edition™ — is now available for pre-order on SonyStyle.com. The Reader Daily Edition, a highly-anticipated wireless model with 3G connectivity, will ship next month.

The Reader Daily Edition joins the Reader Pocket Edition™ and Reader Touch Edition™ to round out Sony's complete family of digital readers. The Reader Daily Edition gives consumers wireless access to Sony's eBookstore from most of the U.S., via a 3G mobile broadband network. Book lovers will be able to browse, purchase and download books as well as select newspapers and magazines on the go. There are no monthly fees or transaction charges for the basic wireless connectivity and users still have the option to side load personal documents or content from other compatible sites via USB. Sony will announce newspaper and magazine content providers within the next month.

The Reader Daily Edition features a responsive, menu-driven, seven-inch touch screen panel that enables quick, intuitive navigation, page turning, highlighting and note taking with the swipe of a finger or by using the included stylus pen. Users can take handwritten notes with the stylus pen or type with the virtual keyboard. All notes can be exported and printed out for easy reference. The Reader Touch Edition includes an onboard Oxford American English Dictionary that allows you to look up a word by simply tapping on it.

For more details on the Reader Daily Edition please visit sonystyle.com; Sony's online destination for book lovers – wordsmoveme.com; or the Sony Electronics Community, which includes a corporate blog, video, photos, polls and profiles. For a list of all the Sony Electronics community sites please visit:

Key Facts:

o Sony's new Reader Daily Edition is now on sale at SonyStyle.com.

o The Reader Daily Edition provides wireless access to Sony's eBookstore from most of the U.S.

o Wireless access is provided by a 3G mobile broadband network.

o The Reader Daily Edition's seven-inch wide, full touch screen display provides intuitive navigation and comfortable layout of content, including newspapers and magazines, in portrait or landscape orientation.

o In portrait mode, about 30-35 lines of text are visible, making the experience very similar to that of a printed paperback book.

o A high contrast ratio with 16 levels of grayscale ensures that text and images are crisp and easy to read.

o The Reader Daily Edition features an attractive aluminum body with an integrated protective cover.

o Easy access to the embedded dictionary with a simple double-tap on a word for its meaning.

o The Reader Daily Edition has enough internal memory to hold more than one thousand standard eBooks and expansion slots for memory cards to hold even more.

o It will sell for about $399.

o Newspaper and magazine content providers to be unveiled within the next month.

Quotes:

Steve Haber, president of Sony's Digital Reading Business Division: "We firmly believe consumers should have choice in every aspect of their digital reading experience. With the availability of the Reader Daily Edition, we are delivering on that promise. We now have the most comprehensive family of devices on the market, the greatest access to free and affordable eBooks through The eBook Store from Sony and our affiliated ecosystem, and now round out our Reader offering with a wireless device that lets consumer purchase and download content on the go."

Links:

o Shop at SonyStyle: www.sonystyle.com

o Sony Reader site: www.sony.com/reader

o Sony News site: www.sony.com/news

o Words Move Me site: www.wordsmoveme.com