Sony PSP2 fan concept is OLED-rollable delight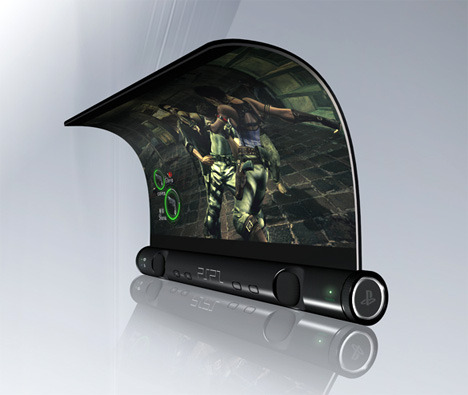 Ignore ergonomic concerns, or feasibility, or any of the other usual real-world complaints – it's Friday and we may as well have a nice new concept to drool over.  The work of Tai Chiem, this PSP2 render takes advantage of a flexible OLED display that can be rolled around the main electronics core but, when charged, automatically stiffens with minimal bezel surround. 
On either end, stereo speakers also do duty as a jog-wheel and camera control, while Cheim has answered many PSP owners' demands and fitted two joysticks to his concept.  When you're finished, wrap it all up and you're left with a mighty portable little gaming device.
Okay, so the PSP12 is unlikely to look like this, never mind the second-generation, but considering how bland Sony's PSP-3000 refresh was it's no surprise that designers are putting their minds to tweaking up something far better.  Best of all, every one of the aspects involved is at some level of production feasibility; the large rollable color OLED display may be a bit tricky to find right now, but not so in a few years time.
[via DVICE]