Sony PSP Go owners to get UMD download access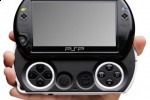 We found out about the PSP Go officially a few days ago, but now Sony is noting that their new portable will allow owners to download digital copies of games they've already purchased on UMD to the new device.
The new program will be based on when you purchased the games or when you bought the PSP Go unit itself. This way, people who have owned a PSP in the past can feel free to trade up without doing away with their previous game library.
We don't know if the new program will cost anything, but the way Sony is talking about it, it seems like it might be free or only cost a trivial amount. But, we'll just have to wait until the company announces the program in more detail.