Sony PSP 'Carnival Colors' limited editions for Japan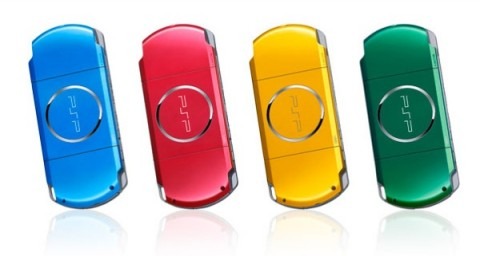 Sony Japan have unveiled four new versions of their handheld console, in the shape of the PSP Carnival Colors range.  Set to go on sale in Japan from March 5th 2009, the limited-editions will be available in "Vibrant Blue," "Radiant Red," "Bright Yellow" and "Spirited Green", and be offered with optional color-matched accessories.
Functionally the new versions are identical to the existing PSP-3000, which comes in black, white and silver.  Sony Japan are staggering the launch of the new colors, with the blue and red dropping on March 5th while the yellow and green don't arrive until March 19th.  No word on any possibility of a launch outside of Japan.
The Sony Carnival Colors PSP-3000 consoles are available alone, with just a 2,200mAh battery, priced at 19,800 yen ($223).  The PSP with color-matched accessory bundle, including a 4GB Memory Stick PRO Duo memory card, PSP pouch, wrist strap and cloth will retail for 24,800 yen ($279).  Japanese buyers will also be able to get the battery and pouch separately.
[via Akihabara]