Sony PSP-3000 Ratchet & Clank bundle only way to get new console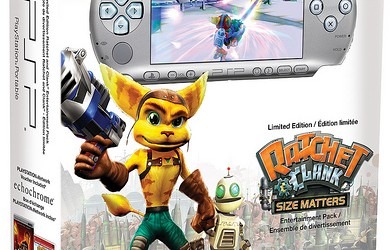 Sony have decided that, for the moment at least, the Ratchet & Clank: Size Matters bundle will be the only way that gamers can buy the new PSP-3000 with its updated screen and integrated microphone.  That means that the PSP Entertainment Pack, which was set to offer the PSP-3000 together with a 4GB memory stick and no included title, has been axed.
Gamers who still want the larger capacity 4GB memory card will have to buy it as a separate accessory, priced at $44.99, this fall.  The existing bundle will continue offering the "mystic silver" PSP-3000, with a "piano black" version following in December.
Sony claim that the decision is based on feedback from customers and discussions with their "retail partners", regarding the popularity of the Ratchet & Clank bundle.  A more cynical person might wonder if retailers are getting frustrated by the shelf-space required for all the different PSP bundles and options, and Sony have seized on this as an opportunity to cut out a cheaper, non-bundle option for the new PSP-3000.