Sony PSN Gamers' Choice Awards nominees announced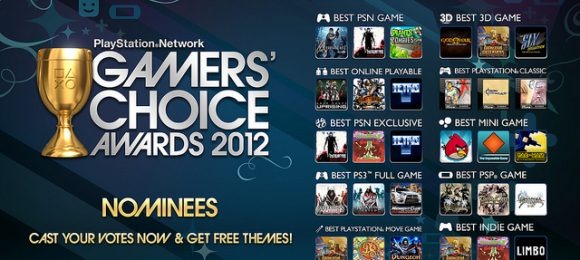 There was a little awards show in Hollywood last night, but no one really cares about that, right? We all know that Sony's PSN Gamers' Choice Awards are much more exciting. Beginning tomorrow, users will be able to log into the PlayStation Store and cast their votes for their favorite downloadable PS3 and PSP games. As a reward, gamers who vote will receive an exclusive XMB theme for their console.
So what's the point of all this? Aside from letting your voice be heard and throwing support behind anything you might have thought was an exceptional title, once all the votes are tallied Sony will offer a 30% discount on the winning titles in each award category. For PlayStation Plus members, that discount shoots up to 50%. The categories include best PSN exclusive, best PSN game, best PlayStation Move game, and best 3D game.
Here's the complete list of award categories and nominees. Remember, voting opens up tomorrow, and anyone who casts a ballot will receive an exclusive theme.
Best PSN Exclusive:
* inFAMOUS Festival of Blood (PS3)
* PixelJunk Shooter 2 (PS3)
* TETRIS (PS3)
Best PSN Game:
* inFAMOUS Festival of Blood (PS3)
* Plants vs. Zombies (PS3)
* Resident Evil 4 (PS3)
Best PSN Game Playable Online:
* Hard Corps: Uprising (PS3)
* Street Fighter III: Third Strike Online Edition (PS3)
* TETRIS (PS3)
Best PS3 Full Game:
* Assassin's Creed: Brotherhood (PS3)
* Assassin's Creed II: Deluxe Edition (PS3)
* Midnight Club LA Complete Edition (PS3)
Best PlayStation Move Game:
* 4Elements HD (PS3)
* Dungeon Defenders (PS3)
* Dungeon Hunter: Alliance (PS3)
Best 3D Game:
* Dungeon Defenders (PS3)
* God of War: Origins Collection (PS3)
* The Sly Collection (PS3)
Best PSone Classic:
* Chrono Trigger (PS3/PSP)
* Parasite Eve (PS3/PSP)
* Xenogears (PS3/PSP)
Best Mini Game:
* Angry Birds (PS3/PSP)
* The Impossible Game (PS3/PSP)
* PAC-MAN Championship Edition (PS3/PSP)
Best PSP Game:
* DISSIDIA 012 [duodecim] FINAL FANTASY (PSP)
* DISSIDIA 012 Prologus FINAL FANTASY (PSP)
* TACTICS OGRE: Let Us Cling Together (PSP)
PlayStation Community Award – Best Indie:
* Dungeon Defenders (PS3)
* LIMBO (PS3)
* PixelJunk Shooter 2 (PS3)